Elizabeth Warren Paints JPMorgan as Purse Thieves
By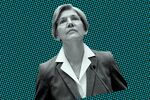 Elizabeth Warren has had a rough go of it lately. Her challenge to Senator Scott Brown (R-Mass.) once looked like one of the Democrats' best pickup opportunities this fall, with Warren raising boatloads of money and leading Brown in a handful of polls. Then she ran into trouble. Earlier this month, Brown's campaign challenged her to produce evidence backing up her claim that she is descended from Cherokee Indians. So far, Warren has been unable to do so, and the past several weeks have featured a series of uncomfortable revelations related to her claim: Harvard Law School listed her as a Native American faculty member in the mid-1990s, and a genealogist withdrew his claim that he'd found evidence corroborating Warren's heritage. (The Atlantic's Garance Franke-Ruta has written the definitive account of the controversy here.)
With no resolution in sight, the controversy is damaging Warren's candidacy and could conceivably cost her the race. Yesterday a Democratic poll found her tied with Brown. But a single partisan poll doesn't prove much, and the respondents were surveyed two weeks ago. She's probably in worse shape.
Warren made her name in politics during the financial crisis as the most forceful and articulate critic of the big Wall Street banks. So it is somewhat odd, though serendipitous, that one of her old foes may inadvertently have thrown her campaign a lifeline. The revelation that JPMorgan Chase lost at least $2 billion in an ill-advised "hedge" gone horribly awry has revived anger at Wall Street and allowed Warren to reassume her old role as the scourge of greedy bankers and defender of the American middle class.
Last week brought news that Brown has received $50,000 in campaign contributions from JPMorgan employees. Now, Warren has taken to the airwaves seeking to capitalize on the new controversy and distract from the old one. In a tough new radio ad captured by Kantar Media's Campaign Media Analysis Group, Warren likens the bank to a purse thief:
Wall Street isn't going to change its ways until Washington gets serious about strong oversight and real accountability. No special deals. We need a tough cop on the beat to make sure that nobody steals your purse on Main Street or your pension on Wall Street.
To listen to the ad, click here. It would be a cosmic irony if JPMorgan's reckless trading rescued Warren and delivered her to the U.S. Senate. Will it? We'll have a better idea where things stand tonight at 11 p.m. when Suffolk University releases its well-regarded poll of the Massachusetts Senate race.
Before it's here, it's on the Bloomberg Terminal.
LEARN MORE