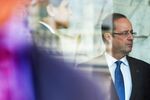 The view in Berlin is that jointly-backed Eurobonds cannot be introduced in the near future, and will require further renegotiation of EU treaties. The thinking is that Mr. Hollande is pursuing the idea as a bargaining chip, rather than as an objective he expects to achieve soon.
–Quentin Peel and Peter Spiegel, France Will Push for Eurobonds, Financial Times, 21 May 2012, 20:03 BST. Major hat-tip to Daniel Arbess, PW Partners.
The view in Berlin is clearer than the view in Athens, Dublin and/or Nicosia.
Dr. El-Erian, chez Pimco, suggests a quiet weekend is "bad." May I suggest…loud, soonest.
My path-to-loud is collective angst over the non-EURIBOR, short-term debt market, the partial break (see, EUR-SEK) of outlier-Europe to real-economy malaise and, the singular silence of the IMF (grown-ups left standing).
It is a game after all, and game theory is in order. Read Dixit/Nalebuff, or removed from Ramsey, read Shiller. All Europe has left is bargaining chips. Discuss.
Before it's here, it's on the Bloomberg Terminal.
LEARN MORE