business
Summer Reading List: The B-School Edition
Francesca Di Meglio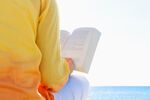 It's the time of year to curl up on a beach towel with the ol' e-reader. While the rest of the world is kicking back and relaxing poolside, aspiring businesspeople should use those so-called lazy days of summer to catch up on reading that will better inform and train them. Here, some book recommendations from business professors:
Inside Apple: How America's Most Admired—and Secretive—Company Really Works (Business Plus, 2012) by Adam Lashinsky
In the wake of Steve Jobs's death, this book helps people better understand how Apple works and what tomorrow might bring. Lashinsky, a technology reporter and editor for Fortune, shares the key to keeping secrets as executed by the Apple staff. Reviews of the book say Inside Apple is a quick read, thoroughly researched and succinct. Understanding the path to Apple's phenomenal growth is the reason professor Michael Useem of the University of Pennsylvania's Wharton School put this one on his summer reading list.
Great by Choice: Uncertainty, Chaos, and Luck—Why Some Thrive Despite Them All (HarperBusiness, 2011) by Jim Collins and Morten T. Hansen
Collins, known for his 2001 best-seller Good to Great, teams up with Hansen to disclose the results of nine years of research on why some businesses are able to thrive in uncertain or even chaotic conditions. Some of the findings include refraining from making too many changes to confronting tumultuous times and turning to successful leaders—namely those who are disciplined, empirical, and even paranoid. This book was recommended by Useem.
Turing's Cathedral: The Origins of the Digital Universe (Pantheon, March 2012) by George Dyson
The title comes from Alan Turing's 1936 description of a Universal Machine, an early computational device, and the book focuses on a small group of people at the Institute for Advanced Study in Princeton, N.J., who built one of the first computers. While this might not seem like typical beach reading, Wharton professor Peter Fader says the book holds surprising interest, even for those who are not "math nerds."
The Theory That Would Not Die (Yale University Press, 2011) by Sharon Bertsch McGrayne
This book discusses Bayes' Rule, a controversial probability theory first discovered in the 18th century that has been used in everything from DNA decoding to homeland security to the breaking of Germany's Enigma code during World War II. This book also appears on Fader's summer reading list.
The HP Way: How Bill Hewlett and I Built Our Company (Harper Business, 2006) by David Packard
The kind of story Americans love: Hewlett Packard began its rise to success in a Palo Alto, Calif., garage. The company's methods, known as the "HP way," are credited and described in the book as being among the major reasons it grew into a multibillion-dollar powerhouse. The book was recommended by Columbia Business School professor Raymond Fisman, who said it "illustrates the challenges – perhaps the impossibility – of nurturing a culture of innovation in an organization as it grows from a garage on Addison Avenue into a Fortune 20 operation."
Reputation Rules: Strategies for Building Your Company's Most Valuable Asset (McGraw-Hill, 2011) by Daniel Diermeier
Diermeier, a professor at Northwestern University Kellogg School of Management, offers a tutorial on how reputation management can be ingrained into the culture of a company. He draws on his research and analyzes reputational risks and opportunities, according to reviews of the book. "Diermeier is a true research-meets-practice scholar whose ideas on reputation management are summarized in this slim volume," says Fisman. "It's a clear-eyed and unsentimental take on corporate citizenship."
Authentic Leadership: Rediscovering Secrets to Creating Lasting Value (Jossey-Bass, August 2004) by Bill George
George, a professor at Harvard Business school and former chief executive officer of the medical technology company Medtronic, calls for new leaders—and not just new laws—to confront the many challenges facing the world and business. He openly discusses his own difficulties, including battles with the U.S. Food and Drug Agency, according to reviews. This book is on Kellogg professor Harry Kraemer's reading list.
Team of Rivals: The Political Genius of Abraham Lincoln (Simon & Schuster, 2006) by Doris Kearns Goodwin
Historian Goodwin tells the story of Lincoln's rise from one-term congressman and prairie lawyer to president. She points out that Lincoln's ability to put himself in the shoes of others was instrumental in winning the war. "It's a fascinating study of how President Abraham Lincoln was able to build a team with very different backgrounds and perspectives to move the country forward," says Kraemer. "It's a great way for students to learn the importance of team-building."
Join the discussion on the Bloomberg Businessweek Business School Forum, visit us on Facebook, and follow @BWbschools on Twitter.
Before it's here, it's on the Bloomberg Terminal.
LEARN MORE