Rocket Man: Should Elon Musk Doubters Think Again?
We ask a former Tesla bear
by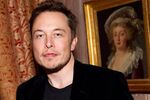 Elon Musk leads a life worthy of Dos Equis's "Most Interesting Man in the World" ad campaign. His tweets are about rockets he just launched. Action heroes model themselves on him. His warm-up was founding PayPal. Stanford held his interest for two days. His other job is reinventing the car. Making $2 billion is what he calls an afterthought.
Musk is clearly a man of gargantuan ambitions and abilities. And his ventures make great stories. But do they also make good investments?
Two years ago, Ironfire Capital founder Eric Jackson didn't think so, at least regarding Tesla. In August 2010 he announced on TheStreet.com that he was shorting Musk's electric car company, which he dubbed "the next Webvan." Jackson cited both Musk's perceived narcissism and the breadth of his ambitions as problems for the company. "If he wants to fiddle around with a space company," he wrote, "then he should go do that." Since Musk's rocket fiddling just put the first commercial cargo on route to the International Space Station, and Tesla says it will be delivering its first Model S sedans ahead of schedule, we called Jackson to ask if he'd changed his thinking.
"What he's done at Tesla and SpaceX, I have to say, it's phenomenal," says Jackson. "I have to tip my hat to him because both ventures are very exciting." Jackson says he got out of his short bet on Tesla—at a small loss—a few months after writing the Street piece. He held Tesla shares for a while after that but hasn't had an interest in the company for about eight months. What changed his mind? "I guess I realized that [Musk] being an egomaniac doesn't necessarily mean [Tesla] won't be a great stock return in the next 6, 12, or 18 months," he says. Jackson saw that investors were not swayed by quarterly losses at the company and decided Tesla was a "story stock," meaning operational problems took a back seat to future potential.
Yet Jackson has no plans to buy a piece of privately held SpaceX if it comes on the market. "[Musk's] healthy self-regard could prove to be an Achilles' heel, but that's probably going to be still a couple years from now rather than immediately." But aren't some egomaniacs as good as they think they are? How many rockets does Musk have to launch, or how many cars does he have to deliver, before Jackson is a believer? "He's been dead right so far, and these kinds of fears have been dead wrong," he says. "I can't really say when I would … want to get behind him." Wall Street can be a tough crowd.
Before it's here, it's on the Bloomberg Terminal.
LEARN MORE