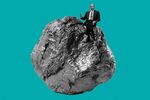 Republicans are pushing hard to stir up anger over the Obama administration's so-called war on coal. When Vice President Joseph Biden was campaigning in Ohio last week, Republicans shot out e-mail blasts and Web videos reminding voters that Biden had once said coal-driven air pollution was more deadly for average Americans than terrorism. And they're castigating Obama for tightening rules on greenhouse gas emissions, regulations that will cost coal companies at least $12 million to retrofit aging plants. Even though these rules were a long time coming—and long overdue, in the eyes of environmentalists—they've sparked an election-year fight over the scope of government regulation.
Arguments like these, while they may rile up voters in coal-producing states such as Ohio and Virginia, miss a major point: During Obama's tenure the energy sources for electricity have undergone a dramatic shift. Natural gas, fueled by a hydraulic fracking boom, last year became cheaper than coal, an industry that has suffered as coal-fired plants have shuttered and communities turn to natural gas to heat and cool their homes. (You can check out coal vs. natural gas on our cool chart here).
This election year, coal state voters are already turning their ire against Obama. In West Virginia, where Democratic Party leaders tied to the coal industry have distanced themselves from the president, many primary voters chose to vote for a federal inmate rather than Obama. But the political argument behind the "war on coal" is missing the wider economic context. The far bigger culprit is the market itself.
Before it's here, it's on the Bloomberg Terminal.
LEARN MORE