POM Wily? FTC Calls POM Wonderful Claims Deceptive
By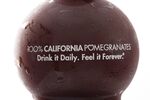 Stewart and Lynda Resnick are Beverly Hills billionaires who live in a grand mansion and have a pavilion named after them at the Los Angeles County Museum of Art. They also own 18,000 acres of pomegranate orchards. About a decade ago, Lynda had the idea of turning all that fruit into juice. She created POM Wonderful and with it, the pomegranate superfood craze.
Following a two-year fight, the U.S. Federal Trade Commission has found (PDF) that some health claims the Resnicks advertised about their products were deceptive. Turns out that despite spending $35 million on some 100 studies, the Resnicks have been unable to prove that their pomegranate juice and pills can treat or prevent heart disease, prostate cancer, and erectile dysfunction.
"This makes it clear why everyone should be suspicious of the results of sponsored studies," says Marion Nestle, professor of nutrition, food studies, and public health at New York University. "POM-sponsored studies produce results favorable to POM."
The judge also ruled that for the next five years, the Resnicks and their company, Roll, have to send all advertising and promotional material to the FTC for inspection. The judge could have also required the Resnicks to seek pre-approval from the Food and Drug Administration before making any health claims at all. He decided this "would constitute unnecessary overreaching." About this, Craig Cooper, chief legal officer for POM Wonderful, said in a statement: "The FTC tried to create a new, stricter industry standard, similar to that required for pharmaceuticals, for marketing the health benefits inherent in safe food and natural food-based products. They failed."
Lynda Resnick used to call herself the Pom Queen. In an interview in fall 2010, she said of the FTC case: "We are consumed with doing good. That's why this POM stuff is so ridiculous. Please. We are fruit. Hello?" Her promotion of POM was just as brash. Read one ad in Men's Fitness: "I'm off to save prostates! Man by man, gland by gland …"  She went on The Martha Stewart Show and said: "It is the magic elixir of our age and of all ages." And in an interview with Newsweek, she winked at a young reporter and told him pomegranate juice is 40 percent as effective as Viagra. "Not that you need it. But—couldn't hoit!"
Lynda Resnick wasn't available for comment. But Stewart Resnick, a prostate cancer survivor who takes two pomegranate pills every morning, said in a statement: "We have always believed in the power of the pomegranate."
Before it's here, it's on the Bloomberg Terminal.
LEARN MORE