Hollande vs. Merkel: French Resistance Holds Firm After Seven Days
Hollande wants euro bonds, Merkel doesn't
By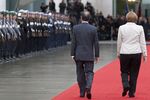 In only a week on the job, French President François Hollande has picked up endorsements from U.S. President Barack Obama, British Prime Minister David Cameron, and others for his push to temper European austerity with growth-stimulating measures.
Hollande has yet to win over the person who really counts: German Chancellor Angela Merkel. At a May 23 summit of European Union leaders in Brussels, Hollande will propose that European governments jointly issue bonds to finance infrastructure projects. The Organization for Economic Cooperation and Development, representing the world's 34 richest market economies, threw its support behind the idea in a May 22 report suggesting that euro bonds could be used to help recapitalize banks and increase funding to the European Investment Bank.
So far, the Germans are having none of it. They contend that commonly issued bonds would ease pressure on weaker European economies to carry out necessary reforms to improve their competitiveness. "We completely oppose joint financing via euro bonds as long as fiscal policy in Europe is not integrated," Deputy Finance Minister Steffen Kamper said in a radio interview on May 21.
Pressure on European leaders has ramped up sharply in the past few days, as a Greek revolt against austerity measures has sparked higher borrowing costs in Spain and Italy. "If global bond market investors stop buying Spanish and Italian debt, it could be the trigger of a second worldwide recession," says Chris Rupkey, chief financial economist at Bank of Tokyo-Mitsubishi UFJ in New York. Obama, after meeting with leaders of the Group of Eight nations in Washington on May 20, said there was an "emerging consensus that more must be done to promote growth and job creation right now," in addition to fiscal austerity and economic reform efforts.
Despite the tough rhetoric from the Germans, there could be room for compromise at the summit. EU leaders also will consider a proposed €10 billion ($12.8 billion) increase in capital for the European Investment Bank for use on infrastructure projects, as well as stepped-up efforts to steer EU structural funds toward development projects in the region's weaker economies. EU countries are already being asked to draw up a list of "shovel-ready" projects so that funds could be put to work immediately, James Nixon, an analyst at Société Générale Cross Access Research, wrote in a May 22 note. "It is probably in this direction where we should expect most of the new initiatives."
Before it's here, it's on the Bloomberg Terminal.
LEARN MORE