Existing Home Sales Rise—Affordability Helps
By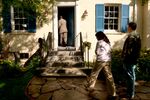 To move the merchandise, cut the price. That time-tested formula finally seems to be working in the U.S. housing market. The National Association of Realtors said today that sales of existing homes rose 3.4 percent in April, from March (seasonally adjusted).
No doubt a big reason was the improvement in affordability. The interest rate on a 30-year fixed-rate mortgage has continued falling since the period covered by the NAR report, portending better times ahead. Freddie Mac, the mortgage-buying giant, says the rate was 3.79 percent in the week ended May 17, the lowest since it began keeping records in 1971. The Realtors's index of affordability hit a record high in the January-March quarter. It factors in sales prices of existing homes, mortgage rates, and household income, which is slowly strengthening as the labor market improves.
The median sales price rose 10.1 percent from a year earlier. That hurts affordability, but it could lure buyers who decide they can't wait for even cheaper prices. "Today's data provide further evidence that the housing sector is turning the corner," wrote economist Joseph Lavorgna of Deutsche Bank Securities.
The numbers could well improve in the months to come. Action Economics Chief Economist Michael Englund wrote: "The existing home sales data generally continue to underperform the recovery in the new home market and other indicators of real estate market activity." But, he added, "the trend is upward."
Tomorrow the U.S. Census Bureau will report sales of new homes in April. The median estimate of economists surveyed by Bloomberg is that they rose 2.6 percent from March.
Before it's here, it's on the Bloomberg Terminal.
LEARN MORE