Don't Hold Your Breath for a 'Too Hot for Work' Lawsuit
By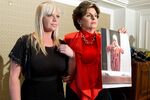 Remember the saga of Debrahlee Lorenzana, the sultry single mom who claimed that she was fired from Citibank after her bosses said she was too attractive? Lorenzana says she was told she wasn't allowed to wear common office attire, including pencil skirts and three-inch heels, because she was distracting the men in the office. When she refused to change her clothes, she says, she was let go. Citibank said she was fired for poor performance. The case went to arbitration, and she lost.
Now a second woman is making a similar complaint. At a press conference in New York on Monday, 29-year-old Lauren Odes alleged that her bosses at Native Intimates, a lingerie wholesaler in Midtown Manhattan, fired her for being too attractive. The trouble began soon after she started the job in April, her lawyer Gloria Allred said. (Allred, who seems to appear magically with a podium and microphone whenever someone levels a high-profile gender-discrimination complaint, also represented Lorenzana for a short time.) Odes's job was data entry and shipping samples to customers. On her second day, Allred said, Odes wore a dress to work that was "neither revealing nor inappropriate and would be acceptable in nearly any office setting." Odes claims she was pulled aside by her supervisors, who told her that the owner, who is an Orthodox Jew, had complained she was drawing attention to herself and should not wear the outfit for her own safety. She said she was told to dress differently and wear an alternate lipstick, even though Odes was wearing only clear lip balm. The supervisor then allegedly told Odes that she was "just too hot for this office. Maybe you should wear your boyfriend's T-shirt and sweat pants."
Things only got worse from there, she claims. The following day, Odes wore a gray T-shirt over black leggings. She said the supervisor told her it wasn't good enough for the owner. He allegedly suggested that she tape her breasts down to make them appear smaller. The following day, Odes wore a black dress that fell to her knees, along with stockings and tall boots. The supervisor complained, handed her an oversized red bathrobe from a sample rack, and suggested she wear it over her clothes. Odes says she broke down crying and went across the street to buy a new sweater. While she was out, she says, her boss called her cell phone and fired her.
Native Intimates did not respond to a request for comment.
Odes has filed a complaint with the U.S. Equal Employment Opportunity Commission. She could be in for a long wait. The EEOC has six months to weigh in on her complaint. At that point, the agency could bring a case against the company. But it's more likely that the EEOC will decline to go forward. The agency takes action only a small percentage of the time. Odes could bring a lawsuit on her own, in federal or state court. That could take at least another two years, and likely much longer.
And even if Odes prevails in court, she'd be unlikely to see much in the way of damages. She doesn't claim that her employer asked her for sex or traumatized her with lewd photos, the kind of claims that tend to garner big payouts from juries.
Before it's here, it's on the Bloomberg Terminal.
LEARN MORE