A Hopeful Turn in the Chevron-Ecuador Fight
Paul M. Barrett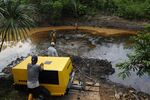 For 19 years, lawyers representing residents of the rainforest in eastern Ecuador have fought in U.S. and Ecuadorean courts to try to force the American oil industry to clean up contamination from drilling and production in the Amazon jungle. In the 1990s, the target was Texaco; more recently it has been Chevron, which acquired Texaco in 2001.
In February 2011, the plaintiffs, led by New York attorney Steven R. Donziger, won an extraordinary $18.2 billion verdict in an Ecuadorean trial court (I profiled Donziger for Bloomberg Businessweek here). Chevron vows it will never pay a dime. The company alleges that the enormous judgment was tainted by attorney fraud and judicial corruption. Appeals in Ecuador continue, as does a civil racketeering suit Chevron has filed against Donziger in federal court in New York (which I wrote about here).
The American oil company maintains that whatever contamination remains on the ground in Ecuador—and there's plenty of it, as I've seen for myself—results from shoddy practices by Petroecuador, the national oil company that took over Texaco's operations in the early 1990s.
One of the several paradoxes of the epic Chevron-Texaco litigation is that after nearly two decades of bitter legal combat—with no end in sight—very little has changed on the ground for the poor campesinos and indigenous tribe members. Until now.
On a recent trip to Lago Agrio, a frontier oil town in eastern Ecuador, I met Mitch Anderson, an American environmental activist who lives there and has helped organize an innovative project to bring clean water to some of the people who live in the Amazon oil patch. Anderson, a former staff member with Amazon Watch, a U.S. environmental group that supports the suit against Chevron, emphasizes that the project, known as ClearWater, does not have financial ties to the litigation or to the plaintiffs' lawyers pursuing it. "ClearWater is about building immediate solutions to the environmental and public health crisis gripping the communities of the Ecuadorean Amazon," he told me.
With seed funding from Irish musician Rea Garvey and his Saving an Angel foundation, ClearWater since last fall has put up 70 rainwater catchment and filtration systems in indigenous villages, serving about 500 people in the Secoya and Cofan tribes. Local people have received training to install and maintain the equipment. All well and good. Everyone deserves clean water.
Still, it's troubling that the project's website and fundraising pitches leave the impression that Chevron alone bears the blame for problems that, when viewed dispassionately, have multiple causes. In addition to pollution from hydrocarbons, water in the Ecuadorean oil region has been contaminated by human and animal waste as the result of a lack of modern sewer and treatment systems. During my recent trip to the region, I saw stinking municipal sewage pouring into a stream in Lago Agrio from which residents draw drinking water. Not far away, I came across a roadside Petroecuador oil spill—the fourth in the past two months, local people told me. Chevron is not responsible for these continuing social ills.
"For decades, we have been fighting for justice against Chevron and have received only insults from the company. Our communities need clean water now in order to survive," Emergildo Criollo, a leader of the Cofan people and local project coordinator for ClearWater, said via e-mail. "We are calling on international civil society to support us in our effort to build solutions to the water crisis in our forest."
Criollo's indignation is understandable. He blames the deaths of two of his children in the 1970s on their drinking and swimming in oil-poisoned river water. What's oddly missing from the embryonic project's online launch, however, is any attempt to link social and environmental problems—and responsibility for ameliorating them—to the Ecuadorean government and its national oil industry, the most powerful economic actor in the Andean country. Rather than present a full and fair portrayal of what's gone wrong in the Amazon, the backers of ClearWater have chosen to demonize one American oil company. That may be the best fundraising strategy, at least if you are limiting your sights to a reflexive anti-corporate, anti-American base. But an effective response to the unhappy conditions in the rainforest in Ecuador will require a more candid and comprehensive assessment of what ails the farmers and tribe members who live in and around Lago Agrio.
(Barrett, the author, most recently, of Glock: The Rise of America's Gun , is working on a book about the oil industry in the Amazon and the legal battles against Texaco and Chevron.)
Before it's here, it's on the Bloomberg Terminal.
LEARN MORE