Your Text Messages, Saved Forever
by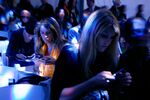 Lifespan-wise, text messages are mayflies. They're not meant to live long.
But like e-mails, which Gmail and Yahoo! essentially allow us to store forever, and tweets—every single one of which the Library of Congress is now archiving—texts are a record of our lives, There are reasons to want to keep them around: for the sake of reminiscence, perhaps, or an alibi, should one be necessary. Today, service providers keep records of text conversations, but merely to get your own messages involves a tedious process requiring subpoenas and a lengthy wait.
A Washington-based startup called Uppidy is offering to solve that problem for you by syncing your texts with its cloud-based site to allow you to keep them as long as you like, even if you switch phones or carriers. The company's founder, Josh Konowe, came up with the idea after he dropped his cell phone in the toilet and had to go through an onerous back-and-forth with AT&T to obtain his texts. The company is about to hit the mark of 10 million messages stored in its system in more than two dozen languages.
Aside from simply storing texts, however, Konowe believes Uppidy's value lies in something else: It makes it easier for others to read your texts. Parents, for example, can go to the site to see their kids' texts—to see if they are being cyberbullied, or if they're lying about where they're spending the night. "If you could stop a stalker," Konowe says, "you could save someone's life."
Corporate IT departments can use Uppidy to see all the texts employees send on their work phones. A former BP engineer has been charged with deleting text messages about the company's response to the 2010 Deepwater Horizon oil spill in the Gulf of Mexico. Uppidy might have allowed that situation to come to light sooner.
The fees companies will pay for the ability to do this are central to Uppidy's business model. Client companies can pay either a licensing fee for the application, which starts at $5,000, or a service fee of 70¢ to $1 per device per month, depending on how many devices are involved. Konowe won't discuss specifics of the company's financials but says Uppidy isn't profitable yet. Uppidy is working on two new business-focused features. One will allow employees either to mark texts as personal (those won't be kept) or as business-related. A second feature will send alerts to IT departments when certain words appear in a text: maybe something related to a trade secret, a swear word, or a suspicious word such as "shred."
What all of this drives home, though, is that ephemerality and obscurity can have a value. With e-mails and even tweets being preserved for posterity, there's an undeniable appeal to having some form of written digital communication that won't stick around, or be read by parents or bosses. After all, everyone has written some texts they would like everyone to forget about as soon as possible.
Before it's here, it's on the Bloomberg Terminal.
LEARN MORE