The Democrats' Private Equity Problem
By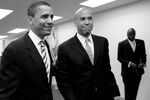 In recent weeks, it's become clear that President Obama's reelection campaign is going to focus heavily on attacking Mitt Romney's career at Bain Capital. That's a problem for Romney. It's a problem, too, for the private equity industry, as I wrote in the current issue of Bloomberg Businessweek. But it's also going to be a problem for Democrats.
On "Meet the Press" Sunday, Newark Mayor Cory Booker, an Obama surrogate, caused an uproar with these comments defending private equity:
[T]he last point I'll make is this kind of stuff is nauseating to me on both sides. It's nauseating to the American public. Enough is enough. Stop attacking private equity, stop attacking Jeremiah Wright. This stuff has got to stop because what it does is it undermines, to me, what this country should be focused on. It's a distraction from the real issues. It's either going to be a small campaign about this crap or it's going to be a big campaign, in my opinion, about the issues that the American public cares about.
Booker isn't the only prominent Democrat to badmouth these attacks. Former auto czar Steven Rattner has made similar comments. Other Democrats are also dubious. One reason is that the Democratic Party has come to rely ever more heavily on Wall Street and private equity for donations. That's partly thanks to New York Senator Charles Schumer, who drew on this local treasure trove while chairing the Democratic Senate Campaign Committee and used the funds to help his party win control of the Senate in 2006.
The recent trend of finance and private equity supporting Democrats extends beyond Wall Street. Even employees of Bain Capital have donated more to Democrats than to Republicans over the last three election cycles (though you have to think that streak's about to end …). According to the Center for Responsive Politics, 165 Bain employees donated a total of $139,188 to Obama in 2008 (those numbers include Bain & Company).
No surprise, then, that many prominent Democratic donors are deeply uncomfortable with these attacks. As Bloomberg News's Hans Nichols reported, the Obama team had to dispatch campaign manager Jim Messina in February to assuage Wall Street donors anxious that the reelection campaign might "demonize" the financial community. Presumably, that's an ongoing process.
On a conference call with reporters today designed to highlight Romney's role in bankrupting Ampad, a Marion (Ind.) paper company, campaign spokesman Ben LaBolt felt it necessary to stipulate, "We're not questioning the purpose of the private equity business as a whole … we're questioning what the values and lessons are of that experience," and whether it's something Americans would like to see in the Oval Office.
That's a distinction that's key to Obama's reelection strategy—and an awkward one for many Democrats.
Before it's here, it's on the Bloomberg Terminal.
LEARN MORE