Mitt Romney's Private Equity Nightmare
By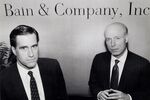 The Randy Johnson-Ampad video has landed, and that could be bad news for Mitt Romney.
Back in February, we profiled Johnson and gave Bloomberg Businessweek readers a heads-up that he would star in an Obama campaign assault on Romney's past as a private equity mogul and the Republican's claims that his years at Bain Capital were devoted to job creation.
Well, the assault began last week with an ad about a former Bain-owned steel company called GST, and today the Obama team sent Johnson into the fray with a video about another ex-Bain property, office-supply manufacturer Ampad, a name that'll be rocketing around YouTube and the political blogs.
The theme of this attack is familiar: Romney has claimed that during the time he ran Bain Capital in the 1980s and 1990s, the financial firm created tens of thousands of jobs. On occasion, the candidate has even boasted that his financial engineering added 100,000 jobs—a claim that, to put it politely, he has never adequately documented (as my Bloomberg News colleague Lisa Lerer explains here). To the contrary, according to the Obama campaign, Bain under Romney destroyed a lot of jobs when it took over struggling companies, like Ampad, squeezed "efficiencies" out of them (via factory closings and layoffs), and then watched them tumble into bankruptcy.
Randy Johnson, a plainspoken union organizer who once worked for Ampad in Marion, Ind., embodies the blue-collar case against private equity, Romney-style. As we reported in February:
Back in 1992, Bain acquired a manufacturer called American Pad & Paper, or Ampad. Bain then used Ampad as a vehicle to buy and restructure similar companies. Following standard "roll-up" strategy, Bain closed factories and laid off workers in anticipation of selling off a leaner, more profitable company via an initial public stock offering.
Two years into the roll up, Bain had Ampad acquire an office supplies plant in Marion, Ind., a manufacturing town 70 miles northeast of Indianapolis. At the time, Johnson worked the night shift making hanging files. "We come back from the July 4th holiday, and this is what we find posted," Johnson says, producing from the Romney box a one-page notice: "As of 3 p.m. today, July 5, 1994, your employment with SCM Office Supplies Inc. will end." Most of the 258 employees were allowed to reapply for jobs at reduced wages and benefits. Johnson's pay fell 22 percent, he says, from $10.05 an hour to $7.88. Dismayed to see their old union contract torn up, the Marion workers negotiated with Ampad management for several months, then called a risky strike. In early 1995, Ampad called the union's bluff, closed the plant, and laid off the remaining workers.
Ever since, Johnson has been haunting Romney with the memory of Ampad. The union man helped defeat the former buyout executive during his very first run for political office—an unsuccessful bid to unseat the late Senator Ted Kennedy in 1994. Now Johnson is back, and he makes a formidable foe. He tells his story affectingly and makes what sounds like a simple, straightforward argument.
As we noted when we looked deeply into the Ampad story with Johnson as our guide, that company's demise is far from a simple morality tale, however. The office supply industry was struggling and consolidating by the time Bain got into the game. As so often happens with a brutal private equity makeover, workers lost jobs they may well have lost anyway, with or without the assistance of the financial engineers. This is the weakness in the Obama campaign's one-sided and, in a sense, unfair broadside against private equity.
On the other hand, as Randy Johnson astutely observed in our profile, Romney has brought this problem on himself:
"None of what happened in Marion in the 1990s would be very interesting," Johnson notes, "if Mitt Romney had not built his entire political career on the claim that he's a job creator."
We also interviewed Marc Wolpow, a former Romney colleague at Bain, who defended the buyout business as promoting American competitiveness. The main goal at buyout firms, however, is never maximizing employment, Wolpow told us. It's maximizing returns for investors. "The facts," Wolpow said, "tend to get lost in the political spin."
Oh, and there's one other thing. The optics of Bain and Romney taking millions in profits away from a deal like Ampad, while workers like Johnson lose their modestly paid jobs, just seems … well, unfair. That's the message the Obama campaign wants to convey.
Before it's here, it's on the Bloomberg Terminal.
LEARN MORE