IPOs' Job-Boosting Power Is Overblown
By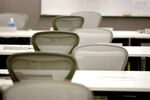 When President Obama signed the JOBS Act to make it easier for young companies to go public, he said it "will help entrepreneurs raise the capital they need to put Americans back to work." Give fast-growing companies easier access to money from public market investors, the thinking goes, and they will expand faster and hire more people. Research published (PDF) by the National Venture Capital Association says that "92 percent of job growth for young companies occurs after their initial public offerings," suggesting that a company with 100 employees at its IPO could expect to hire an additional 900 in the years that follow. The 92 percent figure was cited prominently (PDF) in lobbying efforts supporting the JOBS Act.
A new report (PDF) from the Kauffman Foundation, which promotes entrepreneurship, suggests the estimate is overblown. "Conventional wisdom is that companies going public create a lot of jobs," says Jay Ritter, a University of Florida finance professor who co-authored the study. "The numbers that the venture capital lobby keep repeating are grossly overstated in terms of what the average IPO can accomplish."
Ritter and his co-authors found that companies that went public from 1996 to 2010, in aggregate, increased employment by 45 percent over their IPO headcount. Many of those public offerings, though, were not from "growth" companies but from other sorts of businesses, ranging from leveraged buyout targets to mature companies like UPS, which was founded more than 90 years before it went public in 1999. Growth companies, which Ritter defines as less than 30 years old (and excluding buyouts, spinouts, and the like), more than doubled employment from their IPO levels through 2010. Still, the Kauffman paper says such companies didn't have anywhere near the nine-fold employment growth that the NVCA reports they enjoyed after going public.
That figure comes from research by IHS Global Insight, which the NVCA commissioned in 2009. IHS Vice President Mark Lauritano told me the firm measured growth in employment at the 200 venture-backed companies with the largest market caps, counting from the time of their IPOs from 1970 on. It didn't include results from companies that failed or from smaller companies. "This study does have a built-in survivor bias," Lauritano says. "The 90 percent growth figure really represents the upper end of the range for job creation because it is based upon the largest publicly traded VC-backed companies that 'survived' the ups and downs of the business cycle," he wrote in an e-mail.
That doesn't mean the slower pace of public offerings over the last decade hasn't affected job growth. The Kauffman paper estimates that if companies had gone public in the first decade of the 21st century at the same rate they did between 1980 and 2000, those companies would have created an additional 1.9 million jobs. "It is important to have a working IPO market to facilitate venture capital fundraising and investment," Ritter says. "If VCs don't have that exit possibility, it's going to make it more difficult to raise money to invest in startups."
Making it easier for more startups to go public, though, may not put as many people back to work as supporters of the JOBS Act thought.
Before it's here, it's on the Bloomberg Terminal.
LEARN MORE