GM Doesn't Get Social Media
Larry Popelka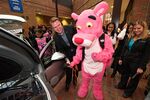 Three days before Facebook's initial public offering, General Motors announced it was pulling its Facebook ads and criticized the social network for failing to deliver results. Then the carmaker declared it was killing its 2013 Super Bowl advertising, calling it "overpriced."
GM is a big advertiser—the third-largest in the U.S.—with a lot of clout, and some view these announcements as an indictment of these two ad mediums. But really they're much more telling of GM's own lack of social media prowess.
Despite GM's turnaround last year, 2012 is off to a slow start, and the company is losing market share to Toyota Motor, Ford Motor, Chrysler, and others.
Even though GM outspends each of these rivals in advertising by more than 50 percent annually, that effort is failing to help build sales. This is largely because GM is more comfortable with old-school marketing tactics that don't work as well as some of the new online and social media tools.
Facebook and the Super Bowl represent two leading-edge social media tools, so it's understandable that a frustrated GM would want to be public about its decision, hoping that others follow suit. GM reportedly spent $10 million on paid Facebook ads last year, accounting for just 0.3 percent of Facebook's total ad revenue, hardly a setback for the social media giant. Facebook's ad revenue grew more than 60 percent last year and is expected to increase by close to that again this year.
Facebook and other new media require advertisers to develop much more thoughtful ads and create a deeper engagement with consumers than traditional media does. Many traditional marketers such as GM—and their ad agencies—are geared toward producing shallow 30-second TV ads, and therefore struggle with this. But those who master social media find it's often a much more powerful and cost-effective tool.
Ford, GM's chief rival, has done well with this medium. After GM's Facebook announcement, Ford tweeted: "It's all about the execution. Our Facebook ads are effective when strategically combined with engaging content and innovation." Ford has more than 1.5 million "likes" on its Facebook page, vs. fewer than 400,000 for GM.
Super Bowl ads have become a big part of the social media scene, though they run on traditional television. Some are talked about and viewed virally weeks after the game. This year's Volkswagen "Darth Vader" ad received 48 million YouTube views. For savvy marketers such as PepsiCo, Nike, and Anheuser-Busch, the viral impact is much more valuable than the TV ads themselves.
GM's Super Bowl ads, however, failed to have a strong impact. Its marketers produced an unimpressive Chevy Volt ad titled "Aliens," which prompted negative buzz online for wasting money that could have been returned to U.S. government shareholders.
Since GM lacks the capability to do social media well, it's probably wise to cut off money that would otherwise be wasted. But if it doesn't get back into the social media game soon with ads that work, it will continue to lose market share to more adept rivals.
Social media is not a fad. Marketers like GM that dismiss it as such are the ones who will wither away in the long run.