business
Food, Drugs, and MBAs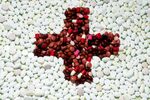 A guest post from Matt Symonds, chief editor of MBA50.com, a website dedicated to the world's outstanding business schools. He is also founder and former director of the QS World MBA Tour and co-author of ABC of Getting the MBA Admissions Edge.
For most MBA students, the closest they will get to the health-care sector and agriculture during their time at business school will be the hefty checks U.S. schools require for medical insurance and the pizza and subs that fuel all-night assignments.
Even when the end of study is in sight and the job market beckons, health care and the food and drink arena still don't seem to attract the attention of MBAs that they arguably should. In last year's survey of most attractive employers conducted by Universum, you have to wait until the No. 14 slot for a health-care specialist—Johnson & Johnson—while the first food and drink company, Coca-Cola, doesn't arrive until No. 21.
But don't these sectors merit more attention from the next generation of corporate leaders? After all, it would be difficult to think of two areas that impact our lives so noticeably every single day. And health-care services alone has been responsible for creating as much as a third of all new jobs in the U.S. since 2009, according to figures from the Labor Department.
Because of their ambition and ability—and because of the hefty debts so many rack up during their time on campus—MBAs always like to be at the center of the action. And schools encourage this with big, bold statements such as "Change lives, change organizations, change the world" at the Stanford Graduate School of Business. However, according to a professor at the Desautels Faculty of Management at Canada's McGill University, that center may now be precisely where the neglected arenas of health care and agriculture intersect.
The devil is, of course, in the details, and there is a lot of it to digest, but the essence of professor Laurette Dubé's thesis seems to be twofold. While food production has risen dramatically over the past 50 years, this is not necessarily benefiting the agriculturally based communities that make up large parts of the developing world. And we are producing more and more foodstuffs that are contributing to epidemics of potentially avoidable diseases such as diabetes, cardiovascular breakdown, and cancer.
Of course, governments will need to play a part in tackling these two problems, but they are so big and so complex that Dubé appears to believe public bodies simply cannot solve them on their own. The key seems to lie in the involvement of the business world, the application of entrepreneurial spirit, and, if I dare say it, good old-fashioned capitalism to create a value chain that will make any projected solution actually work. A synthesis of "agriculture, health, and wealth," as she puts it.
So, for the MBA who does want to change lives, change organizations, and, most important of all, change the world, perhaps it's time for a rethink. Forget Google, Apple, and Facebook—that's just shiny toy stuff. Get yourself a job in a health-care company or agribusiness and start making a real difference for a change.
Join the discussion on the Bloomberg Businessweek Business School Forum, visit us on Facebook, and follow @BWbschools on Twitter.
Before it's here, it's on the Bloomberg Terminal.
LEARN MORE