Facebook Falls Below Its IPO Price
by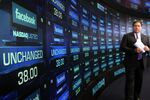 Less than an hour into only its second day of trading, 88 million shares of Facebook had changed hands and the price was down 12 percent from Friday's close of $38.23. (The shares closed Monday at $34.03.) In other words, you could buy this most anticipated of initial public offerings at a substantial discount from the price that Wall Street reserved for its preferred clients.
With a valuation of $104.8 billion at the May 18 close, Facebook was already worth more than three times the other 10 U.S. consumer Internet companies to have gone public in the past year; LinkedIn, valued at $10.3 billion, is second.
"IPOs are scary things," says blogger and newsletter writer Eddy Elfenbein. "It's hard to justify Facebook going for sixty times" next year's estimated earnings, he adds, "in a market where Apple is going for less than 10 times next year's estimate."
So what price can be justified? Elfenbein calculates that Facebook's estimated 2013 earnings of $1 a share, combined with its projected 50 percent earnings growth rate for the next five years—and there's no guarantee the company will meet those estimates—give it a fair value of $33 a share. Even so, he says buying the stock would be prudent only at closer to $23.
You may get that chance. Another analyst, PrivCo's Sam Hamadeh, points to concerns about Facebook's fundamentals: declining first-quarter advertising revenue; the number of unique visitors to Facebook dropping in the U.S.; the company warning in its most recent S-1 filing that the shift to mobile access vs. desktop access could complicate its ad business. He also anticipates a wave of new stock hitting the market once insiders are free to unload their holdings, and predicts that others will sell to raise money to pay taxes on their gains.
"When you factor in that the lockup expires in November and tax-related selling, we think the shares, once the hype dies down, will be in the $20s by yearend—$24 to $25 per share," Hamadeh told peHUB.
If Zuckerberg & Co. should want consolation, they need look no further than Google's 2004 initial public offering. Few remember that the king of Internet search actually had to slash the price of its shares well below its earlier targets. It ultimately IPO'd at $85, which was far lower than management's earlier indicated range of $108 to $135. And though GOOG did enjoy a nice Day One pop, it went to nowhere and back for the better part of a month—before more than quintupling in less than four years.
Before it's here, it's on the Bloomberg Terminal.
LEARN MORE