Chinese Lash Out at Foreigners Amid Turmoil
By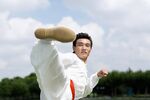 A wave of anti-foreigner sentiment is washing over China. On May 15, the Beijing public security bureau launched a 100-day crackdown on illegal foreigners in China that will extend through August. The campaign will clean out the "three illegals," the Beijing public security bureau announced on its official blog, with an accompanying clenched fist, an image used regularly for anti-crime campaigns. Foreigners that illegally enter, live, or work in China will be targeted, the notice explained, providing a tip hotline. "All citizens are encouraged to provide leads or report cases," the notice said.
And top Chinese Internet sites Baidu and the Twitter-like microblogging site Sina Weibo ("weibo" is the Chinese word used for microblog) launched a campaign "calling on Internet users to expose bad behavior by foreigners in China," according to a report on the People's Daily Online English website on May 18. "Foreign scumbags should go back to their countries. China is not the place for them to do everything they want," the report quoted microblogger "yuxiaole" as writing.
The foreign-directed ill will seems in part due to a recent attempted sexual assault. On the night of May 8, a British national, in China on a tourist visa, was caught on a mobile phone camera in what appeared to be an attempt to molest a Chinese woman on a busy Beijing street. News of the incident went viral after it was posted on the Chinese Web. Separately, Chinese netizens' anger flared when a Russian cellist who has played with the Beijing Symphony Orchestra was shown cursing a Chinese woman on a train, after she asked him to remove his feet from her seat. (He apologized for the incident on the orchestra's Weibo account.)
The anti-foreign feeling and associated campaigns may be more than a reaction to illegal or boorish behavior, however. Last week, a top host for CCTV, China's state-owned national television station, weighed in with comments on his blog that appear to support the public security campaign against law-breaking foreigners, but also referred to "foreign trash"; without citing specific examples, accused foreign residents of spying; and attacked an American journalist, Melissa Chan, who works for Qatar-based Al Jazeera and was recently kicked out of China, where she was a foreign correspondent.
That was the first time Beijing has expelled an accredited foreign reporter since 1998. China's foreign ministry has refused to specify what Chan, who is now entering a journalism fellowship program at Stanford University, has done wrong despite repeated queries from other foreign journalists. Chan reported extensively on sensitive topics including land seizures and secret "black prisons" for those Chinese who travel to Beijing to petition the government about their grievances.
"We stress that everybody must abide by Chinese laws and regulations and must abide by their professional ethics," said foreign ministry spokesperson Hong Lei on May 8 in response to a question about Chan's expulsion. In Washington, State Department deputy spokesman Mark Toner said: "To our knowledge, she operated and reported in accordance with Chinese law, including regulations that permit foreign journalists to operate freely in China."
"If this year was going swimmingly well, I don't think the level of sensitivity would be as high," says Patrick Chovanec, a business professor at Tsinghua University. "The fact that the economy is clearly in a downturn, that they are struggling with their options to cope with it, and that there are a number of social tensions coming to a head, it's no surprise that this would give rise to a certain level of defensiveness, even a feeling of being under siege." China's economy grew by 8.1 percent in the first quarter, its slowest pace since 2009.
"The Public Security Bureau wants to clean out the foreign trash: To arrest foreign thugs and protect innocent girls, they need to concentrate on the disaster zones in Wudaokou [student district] and Sanlitun [nightlife district]," the fluent English-speaking host Yang Rui, who is known for his interviews with foreign businessmen, politicians, and academics on CCTV's English channel current affairs show Dialogue, wrote on his Sina Weibo account on May 16.
"Cut off the foreign snake heads. People who can't find jobs in the U.S. and Europe come to China to grab our money, engage in human trafficking, and spread deceitful lies to encourage emigration. Foreign spies seek out Chinese girls to mask their espionage and pretend to be tourists while compiling maps and GPS data for Japan, Korea, and the West. We kicked out that foreign bitch and closed Al Jazeera's Beijing bureau. We should shut up those who demonize China and send them packing."
Yang Rui appeared to soften his tone slightly in a follow-up posting two days later. "Sweeping out the foreign trash is necessary," he wrote on May 18. However, China "should be on guard against xenophobia and the perversions of the Boxer movement," Yang wrote, referencing the violent anti-foreigner crusade that swept China from 1899 to 1901.
"Yang Rui is not a loose cannon. For him to say this suggests he feels like what he is saying is supported by the people above him," says Beijing-based independent Internet analyst Bill Bishop. "You see all kinds of concerns expressed about hostile foreign forces now. There seems to be a shift toward telling Chinese they must watch out for foreigners. I think it is going to be a long, hot summer, in more ways than one. It just feels strange."
U.S. Ambassador to China Gary Locke has also gotten pulled into the melee. The state-owned Beijing Daily in an editorial in early May criticized Locke, citing not only his embassy's decision to shelter blind activist Chen Guangcheng for six days, but also questioning the ambassador's motivations for acting like a man of the people, citing his decision to travel economy class, carry his own suitcases, and use coupons to purchase Starbucks coffee. (Chinese netizens earlier praised Locke for his humble attitude, comparing it unfavorably with their own leaders' tendencies.)
"Is he trying to improve the Sino-US relationship or using any means to pick faults and make trouble, which might create new and wider gaps between China and the US?" the Beijing Daily editorial asked rhetorically on May 4.
After that editorial was scrubbed from China's Internet, the Beijing Daily posted a microblog on May 14, asking Locke to declare his salary and assets, and reposted a microblogger's comments on the ambassador, perhaps trying to defuse public anger over widespread beliefs that Chinese officials hide luxurious lifestyles funded by corrupt activities. "Gary Locke lives in the US embassy which costs billions of US dollars. He commutes in a bullet-proof limousine," the microblogger reposted by Beijing Daily wrote, adding: "Can this be called modesty? And why does Gary Locke not announce these facts to the public. … So cut the show of incorruptibility!"
That effort, however, seems to have boomeranged after the U.S. government quickly posted online Locke's salary ($179,700 plus $30,000 education subsidy for each of his three children) and assets (worth between $2.35 million and $8.12 million). That spawned an impassioned debate among Chinese netizens discussing why Chinese officials still don't publicly declare their personal assets. Many government officials in China are now required to report their assets to the Communist Party, but those figures are not released publicly.
"China is unique among the big countries where such law [on public disclosure of official assets] does not exist," wrote one commenter on the People's Daily Online English website on May 16. "Even in Taiwan, leaders do not stand above the law. [Chen Shui-bian], the former head of Taiwan is locked up in prison for corruption," the commenter identified as Fat-Chun Leung Ki wrote. "The lack of such [law] in China allows leaders to perpetuate their crime."
"Things are very unsettled in China right now and people are feeling frustrated," says James McGregor, senior counselor at Apco Worldwide in Beijing. "In China, it is easier to express your frustrations toward foreigners than toward the government. For some in the government, pointing fingers at foreigners is better than having them pointing back in your direction."