The Tea Party Sets Its Sights on the Senate
By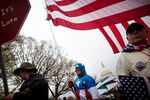 Indiana Senator Richard Lugar's crushing defeat by a Tea Party candidate in the state's GOP primary last week offered further proof that the parties are more polarized than ever. Lugar joins a growing list of moderate Republicans who have left or will not be returning to Washington due to the hyperpartisan climate on Capitol Hill.
For the most part it's the House, not the Senate, where the Tea Party has traction. Lugar's loss may be a sign of things to come, though. Upstart candidates in at least three other states—Arizona, Texas, and Missouri—are fighting hard to appeal to the GOP's fiercely conservative wing and take seats from the establishment.
J.D. Hayworth, a conservative talk-show host and former congressman, is challenging John McCain in Arizona, positioning himself as the stalwart conservative. Hayworth has earned the backing of prominent political leaders in the state, including five-term Maricopa County Sheriff Joe Arpaio, whom the Justice Department is suing for allegedly conducting unlawful searches. McCain is emphasizing his conservative bona fides, saying he has never voted for a tax hike, in an attempt to win over the Tea Party.
In Texas, Tea Party candidate Ted Cruz, a former solicitor general, is trying to beat Lieutenant Governor David Dewhurst in a May 29 primary. Cruz is trailing Dewhurst by a sizable margin but has backing in high places. The day after Lugar's defeat, the Club for Growth, the group founded by antitax crusader Grover Norquist, announced a $1 million ad campaign aimed at "moderate tax-raising David Dewhurst," the Houston Chronicle reports.
Also working to help Cruz: Sarah Palin. That may be a boon to his candidacy. Palin's 11th-hour endorsement of Deb Fischer in Nebraska this week was said to be the magic bullet that helped Fischer come from behind and win the GOP's Senate nomination.
Before it's here, it's on the Bloomberg Terminal.
LEARN MORE