The Developer Behind a $90 Million Penthouse
By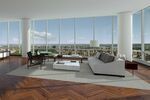 You can put your spare $90 million into buying 2 million shares of Facebook, or you can spend it snapping up one luxury penthouse apartment in New York. A 10,923-square-foot duplex atop One57, one of the city's tallest buildings, has sold for that record price tag. While the buyer's name isn't public—all we're told is that the buyer is a family who are not from a former Soviet state—the name of the man behind the luxury development is no mystery: Gary Barnett, the president of Extell Development.
Barnett, a former diamond trader, started his company in the 1990s and soon took on a number of attention-getting projects, including buying Enron's new Houston headquarters after the company's collapse and developing the W Hotel in New York's Times Square. Barnett has conquered a field dominated by family dynasties and REITs to become the second most powerful person in New York real estate, according to the Commercial Observer. "Long considered a lone wolf for his tendency to ruffle feathers of his contemporaries … the developer is beginning to be taken more seriously by his peers," the paper wrote earlier this month.
One57 is Barnett's highest-profile project—literally: The 90-story building is 1,005 feet tall. It has a premier location across from Carnegie Hall, just south of Central Park. In a market where developers are layering on extravagance to attract wealthy buyers from Russia and Asia, Barnett gushes about the luxury of One57. "Look at this kitchen," he told the Observer. " Where will you find a kitchen anywhere like this? It's the best, and we have two of them." The kitchens feature built-in wine cabinets and custom cabinetry from the bespoke British designer Smallbone of Devizes.
While Barnett's the developer of One57, he's not the one who will profit most from the sales. The real money goes to two Abu Dhabi-based funds that have a majority investment in One57 after putting $650 million into the project, according to a 2011 story in the Wall Street Journal. Barnett has just 10 percent.
He has other flashy properties in the works, including a glassy Hyatt in Times Square with a rooftop bar and renovations to convert the old Helmsley Carlton Hotel on Manhattan's Upper East Side into apartments. He also is hoping to outdo himself, with plans for another tower just one block away from One57 that will be 245 feet taller. No word yet about the kitchens in that one.
Before it's here, it's on the Bloomberg Terminal.
LEARN MORE