Pinterest Stake Fuels Rakuten's Quest to Be a Global Player
by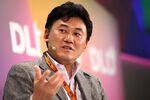 Facebook isn't the only Silicon Valley social networking company making news.
On Thursday, the same day Mark Zuckerberg's company announced it had raised $16 billion in the biggest IPO by a technology company, Japanese e-commerce company Rakuten announced it is leading a group to invest $100 million in rival Pinterest. The deal gives a valuation of about $1.5 billion to the Palo Alto (Calif.)-based startup, which operates a site that allows users to share photos on virtual bulletin boards.
Rakuten is big in Japan, but with the economy in the doldrums and the population aging rapidly, the company can't rely on the home market to fuel its growth. Hence, Chairman and Chief Executive Officer Hiroshi Mikitani's campaign to transform Rakuten into a global player that can compete in the U.S. and elsewhere against the industry's heavy hitters. Mikitani has made English the official language of the company. Rakuten, which acquired Buy.com in 2010, last November announced the purchase of Kobo, the e-reader that is No. 3 in the U.S. behind Kindle and Nook. He's made deals in Europe and Asia. And now there's the investment in Pinterest.
Mikitani is not your usual staid Japanese CEO. Ranked No. 161 on the Forbes rich list, Mikitani is a 47-year-old entrepreneur with an MBA from Harvard who gave up a career in banking to launch Rakuten in 1997. Today it's the country's biggest cybermall. Mikitani is also chairman of Rakuten Baseball, which owns the Pacific League team the Tohoku Rakuten Golden Eagles. The team is based in Sendai, the northeastern city that was hit hard by last year's earthquake and tsunami. After the disaster and the crisis at the Fukushima nuclear power plant, Mikitani quit the Keidanren business lobby to protest its support for Japan's continued reliance on nukes.
Mikitani has had his setbacks. For instance, he tried to get a piece of the booming Chinese market by teaming up with search engine Baidu, but that partnership went nowhere and last month Rakuten announced it was giving up on the business. After buying Kobo, which is well ahead of Nook outside the U.S., Rakuten figured it had a clear shot at being the main alternative to Amazon worldwide. That was before Microsoft and Barnes & Noble joined forces. With the software giant now allied with the U.S. bookseller, the Nook stands to be a much more formidable competitor.
How does Pinterest fit into Mikitani's plans? Mikitani says there's a lot of overlap between e-commerce and social networking. Taking a page from Pinterest's playbook, Rakuten will soon add "pin it" buttons on its site so users can share pictures of would-be purchases.
"While some may see e-commerce as a straightforward vending machine-like experience, we believe it is a living process where both retailers and consumers can communicate, discover, and curate to make the experience more entertaining," he said in a May 17 statement. "We see tremendous synergies between Pinterest's vision and Rakuten's model for e-commerce. Rakuten looks forward to introducing Pinterest to the Japanese market as well as other markets around the world."
Before it's here, it's on the Bloomberg Terminal.
LEARN MORE