Haas's Answer to the Affirmative Action Ban
By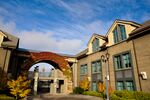 As minority representation on corporate boards dwindles, most MBA programs are quick to brag about the diversity of their student bodies—alluding to the fact that they are producing a wide variety of future managers. But enrolling a diverse group of students is harder for some schools than others.
The University of California at Berkeley's Haas School of Business and the University of Michigan's Ross School of Business are the only schools ranked in Bloomberg Businessweek's top 10 full-time MBA programs that aren't allowed to consider an applicant's race or ethnicity during recruitment, admissions, or when handing out financial aid. Laws in California and Michigan ban affirmative action at public universities. Private schools aren't subject to the same rule.
Haas and Ross are competing against schools that don't just have more money, but more tools at their disposal to attract those candidates.
"Berkeley is at the top in terms of quality and curriculum. It's the financial resources available to them where they are at a disadvantage," says Nancy Sims, chief executive officer of the Robert Toigo Foundation, an organization that awards fellowships to minority MBA candidates pursuing careers in finance.
To ensure they don't lose the best minority applicants, both schools have a number of ways to compete. Ross, like many schools, partners with the Consortium for Graduate Study in Management, a group that promotes diversity in business and awards full-tuition fellowships to MBA candidates, as well as Toigo and the Riordan Programs, another fellowship opportunity. Haas has taken a different approach. In addition to partnering with the Consortium, it has launched a program that involves bringing underclassmen from historically black colleges to campus for two weeks this summer. The hope is that by giving African American students a small taste of Haas, it will entice some to apply to the MBA program without violating the affirmative action ban.
While the jury's still out on the program for historically black colleges, the Consortium partnership has shown results, Haas says.
Applications from under-represented minorities jumped 44 percent for the class of 2013 vs. the class of 2012, and enrollment of those applicants nearly doubled to 9.6 percent after Haas joined the Consortium. While Haas can't award financial aid based on race or ethnicity, it can partner with outside organizations that provide scholarships for minority students. The gains came after the school experienced record lows for such enrollment.
Haas also hired Eric Abrams away from Stanford this year to become its first director of diversity initiatives. Abrams previously was assistant dean of undergrad admission at Stanford, where he led a diversity outreach team.
That may have been a good move: Haas most frequently competes for MBA students with Stanford, followed in order by Harvard, Northwestern, the University of Pennsylvania, MIT, Columbia, New York University and the University of Chicago, according to application and admissions data compiled by Businessweek. Unlike Haas and Ross, none of those schools is prohibited from considering race or ethnicity in admissions.
A growing number of states are outlawing affirmative action in college admissions, suggesting growing distaste for the practice, says Roger Clegg, president and general counsel of the Center for Equal Opportunity, a Falls Church (Va.) nonprofit opposed to racial preferences. Arizona, Nebraska, and Washington have also eliminated race-based affirmative action in college admissions, according to his organization's tally. The U.S. Supreme Court will reconsider the constitutionality of affirmative action in college admissions this fall in a case that involves the University of Texas at Austin.
Sims says America's corporate boards highlight a need for diversity at the MBA level. The share of women and ethnic minorities holding board seats at Fortune 100 companies declined to 27 percent in 2010 from 29 percent in 2004, according to a report from the Alliance for Board Diversity.
Haas's Abrams says recruiters from such companies have those figures in mind when planning for the future. "Many firms who hire our graduates talk about their needs to diversify, and certainly we want to be responsive to that," he says. Haas just has to find alternate ways to do so. "We're not doing anything that is not within the letter or spirit of the law."
Join the discussion on the Bloomberg Businessweek Business School Forum, visit us on Facebook, and follow @BWbschools on Twitter.
Before it's here, it's on the Bloomberg Terminal.
LEARN MORE