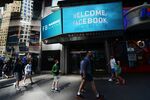 Aug. 9, 1995. Aug. 19, 2004. Those dates are when Netscape and Google, respectively, went public—each ushering in a new era of the Internet and Wall Street's ardor for its latest and greatest startups . We will similarly look back at May 18, 2012, the date of Facebook's IPO, as a landmark moment in the history of what they used to call the World Wide Web.
At 9:30 a.m. Eastern time, Zuckerberg rang the electronic index's opening "bell" from a party at Facebook's California campus. The shares won't start trading until 11 a.m. For now, the social network, which yesterday sold 421.2 million shares at $38 apiece, is worth $104.2 billion. That represents a distinctly 1999-flavored 107 times trailing 12-month earnings, more than every member of the Standard & Poor's 500-stock index save for Amazon and Equity Residential. And $104 billion is worth more than blue chips like McDonald's, Disney, and Cisco Systems, indeed, more than 90 percent of the components of the S&P 500.
"Can you get me Facebook?" is the question that dominated calls to and from brokers since the eight-year-old company first announced its IPO. "There's hundreds of millions of people that want to emotionally buy this stock, and most of them are going to have to buy it in the aftermarket," said Jon Merriman, chief executive officer of investment firm Merriman Holdings in San Francisco. The underwriting bankers, led by Morgan Stanley, JPMorgan Chase, and Goldman Sachs Group, stand to share about $176 million for managing the IPO, said two people with knowledge of the matter, who declined to be identified because the rate is private.
At $16 billion, Facebook's debut knocks out General Motors' 2010 relisting to become the second-largest IPO in U.S. history, excluding so-called over-allotments, which let underwriters buy more shares at a later date, data compiled by Bloomberg show. Visa raised $17.9 billion in its 2008 IPO, the biggest in the U.S., and later expanded the sale to $19.7 billion.
Even if FB doubles or triples at the open, it will be a challenge, to say the least, for the stock to match Google's meteoric ascent since it went public eight years ago. Google's valuation has jumped almost ninefold; Facebook would have to be worth $920 billion by 2020 to achieve that feat. For context: Apple, the most valuable company in the world, now has a market value of $496 billion.
Bankhaus Main, making a market for Facebook shares in Frankfurt before the official start of trading, quoted the latest offers at the equivalent of $70 a share, Bloomberg News reported.
Aftermarket speculators, on your marks …
UPDATE:
It's 12:30 p.m. of Facebook's big first day as a public company and the stock is not even up 10 percent? These are indeed dark days for a once-proud America.
No, but seriously: People were whispering double the $38 IPO price on a Friday feeding frenzy by Mom & Pop and institutional investors. A disaster for Facebook? Hardly. Give props to Zuckerberg, Sandberg & Co. for not leaving precious billions on the table in their negotiation with the underwriting banks, who had the tough task of gratifying both Facebook and their own brokerage clients.
It went down like this: Facebook obviously wanted to get as much as it could in placing its shares with the banks. It ultimately sold 421.2 million shares at $38 apiece, making the company worth $104.2 billion—which is more than 90 percent of the components in the S&P 500. While today's price move affects Facebook's prestige and the paper wealth of its billionaire founders, the key transaction for the social media darling was its sale to the underwriting banks.
Wall Street brokerage clients who were lucky enough to get shares hoped the stock would experience one of those legendary first-day pops. So far, the peak was a $7 jump to $45. Less than an hour later, those who held on were back to anticlimactic break-even.
Look for the deal's underwriters, including JPMorgan, Goldman Sachs, and Morgan Stanley, to protect Facebook shares from falling below $38—a headline that would make them look bad.
Meantime, it'll soon be safe to switch back to full-time hand-wringing over Greece.
UPDATE 2:
With its $104 billion valuation, Facebook is now worth more than some of the most widely held stocks in America, from McDonald's to Cisco. Which means that it, too, will have to be widely held by mutual funds and other institutional investors, especially as Facebook's clout and size make it a candidate for addition to benchmarks like the S&P 500 and Nasdaq 100.
Some institutional investors have expressed hesitation about buying Facebook on concerns about the site's growth prospects, people with knowledge of the matter said last week. They could be vindicated by the fact that the shares are struggling to keep their debut offering price of $38. With 15 minutes left in Friday's session, the stock was at $38.01.
Others have learned to stop worrying and love the boom—and have already gotten started on loading up. According to data compiled by Morningstar, mutual funds offered by Morgan Stanley and T. Rowe Price have dominated the rolls of institutions that bought Facebook on private exchanges ahead of its IPO.
As of March 31, Morgan Stanley Multi-Cap Growth B, which had already stocked up on shares of Amazon.com, Apple, and Google, had 4 percent of its portfolio in Facebook—tops on the list. It was followed by four other Morgan Stanley funds, including Institutional Opportunity H, Institutional Focus Growth I and Focus Growth B. The top 10 list rounds out with T. Rowe Price Media & Telecommunications and T. Rowe Price Global Stock. In all, T. Rowe Price funds represent 11 of the top 30 fund holders by percentage weight of Facebook in their portfolios.
The question is who sticks around, and for how long, now that Facebook's aftermarket pop has not materialized.
UPDATE 3:
A tepid debut. So much for that first day pop to $70, $60, or even $40 for Facebook. At the close of trading, newly minted FB struggled to remain above its $38 offering price, reaching $38.37, then immediately falling back toward $38 in after-hours trading. Which is fine, mind you: The eight-year-old company, which has a knack for getting us to admit things we really shouldn't and buy imaginary goats we don't really need, is still worth $104 billion.
But it's also not fine.
Consider: "Facebook: Failure to Launch" is how the CNN screen above me is putting it, as the stock visited $38.02.
Curiously, Facebook's stock has doggedly stayed above $38 today, thanks to a constant barrage of big bids at that price. Is it that the IPO's underwriters, including Morgan Stanley and JPMorgan, are trying mightily to preserve the sanctity of their offer price? Should they maybe have negotiated harder to extract a better deal for their clients from Mark Zuckerberg & Crew? After all, Facebook agreed to pay them less than one-third the 3.6 percent median fee on the 10 largest U.S. IPOs in history before this one, according to data compiled by Bloomberg. (Back in my day, things were out of whack in the other direction.)
True, Facebook's IPO is as big and prestigious as they come these days; taking a smaller percentage cut now could be a smart investment to land more deals down the road. But delivering a no-pop IPO of this size and import pretty much offsets that trade.
Give props to the 28-year-old in the hoodie for getting the most out of the IPO for his company.
UPDATE 4:
Facebook is No. 1!
Facebook did manage to set a record: More than 560 million shares traded on Friday, marking a new record for a listing's first day. The prior record holder was General Motors, which had a 458 million-share trading day when it emerged from government ownership in 2010. By 3 p.m. EDT, Facebook accounted for 7 percent of total U.S. stock market volume, and 22 percent of trading in the Nasdaq composite. This all comes in a period where the U.S. market has seen its lowest average volume in five years.
Apparently, the volume made it hard to get a fix on the closing price. As of 4:50, Facebook ended regular trading at $38.23.
Before it's here, it's on the Bloomberg Terminal.
LEARN MORE