New York's Citibike, a Two-Wheeled Tank
The star of New York's bike-share program is all about strength—not speed
By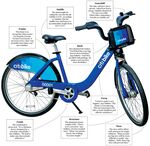 In July a fleet of 10,000 "Citibikes" will be released on the streets of Manhattan and Brooklyn. They're part of a new public bike-share program funded jointly by Citibank and Mastercard, who paid $41 million and $6.5 million, respectively. The bikes are manufactured by Quebec-based PBSC Urban Solutions—also known as Bixi—which provided the vehicles for 10 similar programs in cities including Melbourne, Boston, and London. They were conceived by industrial designer Michel Dallaire and engineers at the bicycle maker Devinci. Together they set out to create a virtually indestructible machine, capable of surviving the hydra-headed assault of neglect and vandalism.
"This bike is too strong for one person only," says Bruno Gauthier, chief engineer at Devinci. "It's like a Hummer. It's too much power. This bicycle is built for the urban jungle."
Before it's here, it's on the Bloomberg Terminal.
LEARN MORE