business
Lessons From a Hedge Fund Conference
By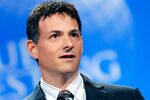 Every year, the Ira Sohn foundation invites a group of esteemed money managers to present investment ideas to raise money for pediatric cancer and other children's illnesses. And every year, those ideas are picked over by investors like jackals around a carcass. For a first-time attendee at this year's conference on May 16, a few things stood out after six hours of listening to some of the industry's top figures.
1. Hedge fund managers can be funny
"I try very hard not to speak in public, and you're about to find out why," announced Jonathan Kolatch, the rather high-voiced founder of Redwood Capital Management and a former Goldman Sachs head of credit arbitrage. The fund manager went on to explain that the research process at his $4 billion fund was "exhaustive."
"We took a look at Amazon," he said, flashing the online retailer's logo on the screen, before adding that they'd decided the high-flying stock wasn't a good value. They also considered investing in shares of Apple when they were "around $300," but he thought "the iPhone and the iPad would lose some of their 'cool factor' once people like me started owning them." His recommended investment idea was less overtly witty: Argentina's sovereign debt.
2. Hedge fund managers struggle to be concise
Almost all of them blew right through their allotted 15-minute time slots; by the time the late afternoon approached, the presentations were 45 minutes behind schedule. Several speakers, including Greenlight Capital's David Einhorn, showed dozens or even 100 slides. Others couldn't resist sharing reams of spreadsheets illustrating how they'd conceived of their inspired investment schemes. Notable exceptions were Dan Ariely, the behavioral economics expert, and John Paulson, of Paulson & Co., both of whom kept it short. As did Larry Robbins, the founder of Glenview Capital Management, who announced to the crowd: "If you're a public speaking coach—I know I'm going to be speaking too fast, I'm trying to cram everything in."
3. There's a reason hedge fund managers don't have their own reality show
They are not natural performers. During the talk by Dwight Anderson, the managing partner of Ospraie Management, a commodities-focused fund, snoring could be heard in the auditorium's farther reaches. The notable exception was Jeffrey Gundlach, the founder of DoubleLine Capital and a born showman. Wearing a slick dove-gray suit and a pink tie, he rattled off references to Karl Marx, Picasso, car crashes, natural gas, and the IBEX in what was by far the most entertaining 20 minutes of the afternoon. The ultimate illustration of his theory that the current investing universe is all about fear, chaos, and despair came when he recommended that investors buy three boxes of Cheerios, empty them, and stuff them with $100 bills.
4. Hedge fund managers are human
Meryl Witmer, a general partner at Eagle Capital Partners and the only female presenter, was introduced by her floppy haired son. "I play soccer, basketball, and lacrosse at Buckley," said the preppy youth. "I am a pretty normal 14-year-old." He explained that when he was eight, he started vomiting a lot: "Mom figured out on Google that I was either pregnant or had a brain tumor. Too bad I wasn't pregnant." He was treated for cancer and is now healthy, just the sort of case the conference was meant to help. His grateful mother recommended buying shares of Gildan Activewear, which makes T-shirts, fleecewear, and Gold Toe socks. Witmer also likes Viacom.
5. Hedge fund managers are pessimists
Their dire outlook is shared by economists. Harvard professor Kenneth Rogoff told the crowd that more European defaults are likely. Einhorn said that a French government default and an exit from the euro "is not out of the question." Gundlach summed it up in the most colorful terms when he said that the "skull-like head" and "nightmarish, fever sky" of Edvard Munch's The Scream is "the ideal image of our time."
After a day with these hedge fund masters, I was almost ready to flee to Canada with a bag of potato seeds.
Before it's here, it's on the Bloomberg Terminal.
LEARN MORE