Facebook's Very Few MBA Millionaires
Louis Lavelle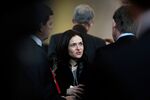 MBAs, for all their talk of entrepreneurship and the like, are really quite conventional—for as long as anyone can remember, well more than half of every class at top business schools has ended up in the same two industries: financial services and consulting. The few exceptions to that rule are just that: exceptions.
So it should come as little surprise that relatively few of the Facebook millionaires have the degree. While a generation of MBA graduates were dutifully interviewing with McKinsey and Goldman Sachs, the Facebook millionaires were busy getting themselves in on the ground floor of Zuckerberg & Co. If an MBA teaches you anything, you'd think it would be how to recognize the next big thing when it comes along. But that's not what happened with Facebook. Yes, there's a boatload of luck involved—not everyone can be Mark Zuckerberg's Harvard roommate—but still.
Who are the Facebook millionaires with MBAs? Let's start with who isn't. Dustin Moskovitz, Zuckerberg's roommate and one of the original founders, studied economics at Harvard. Ditto for Eduardo Saverin, the fellow founder who recently gave up his U.S. citizenship and stands to save a ton of money on taxes as a result. Peter Thiel, one of the company's early angel investors, has a JD from Stanford.
According to the website whoownsfacebook.com, there are seven MBAs on the list, with most earning their degrees at the institution where Facebook was born. The size of their Facebook stakes is based on an $85 billion valuation for the company, with shares trading at $34. But that's a little out of date. The company has since boosted its share price to as high as $38 a share, for a $104 billion valuation.
Here are the Facebook MBA millionaires:
Sheryl Sandberg: Facebook's chief operating officer since 2008, Sandberg has a 0.1 percent stake in the company, valued at $86 million. But when her 40 million shares of restricted stock vest, her stake will be worth $1.8 billion, more than the 2011 gross domestic product of Belize. She's a 1995 graduate of Harvard Business School and will give the school's Class Day address on May 23.
Jim Breyer: A partner in the venture capital firm Accel Partners, Breyer was an early-stage angel investor in Facebook. His 0.6 percent stake is valued at $510 million. Like Sandberg he has an MBA from Harvard, and he worked for McKinsey, Apple, and Hewlett-Packard before getting into the VC business.
Mark Pincus: The co-founder of online social game maker Zynga and a serial entrepreneur, Pincus was an early angel investor in Facebook, where his stake is now valued at $425 million. His MBA is from Harvard.
Alexander Samwer: One of three German-born brothers, entrepreneurs all, who acquired a combined stake in Facebook valued at $85 million. In addition to Facebook, the brothers have made sizable investments in a number of companies, including, oddly enough, the German Facebook clone StudiVZ. Alexander's MBA is from Harvard.
Cameron and Tyler Winklevoss: The Winklevoss twins, along with Divya Narendra, went mano a mano with Zuckerberg at Harvard, claiming he stole their idea after he was hired to write code for a new social networking site for students called HarvardConnection. As part of the settlement of their lawsuit against Zuckerberg, they reportedly received $10 million in Facebook stock. Assuming it was split evenly, each of the twins has a stake valued at $18.7 million. They both got their MBAs from Saïd Business School at the University of Oxford.
Divya Narendra: The newest Facebook MBA millionaire, Narendra has the distinction of being the person who approached Zuckerberg for help on HarvardConnection. Whoownsfacebook.com assumes he got his stake the way the Winklevoss duo did—as part of the legal settlement. If so, his stake is also worth $18.7 million. He's getting his MBA next month from Northwestern's Kellogg School of Management as part of a joint JD-MBA program.
There may be other MBA Facebook millionaires with stakes too small to surface in regulatory filings, or people with an indirect stake in the company who have MBAs (partners in VC firms that hold shares of Facebook, for example). But for now, that's it: three VCs, three sworn enemies, and one top executive.
Join the discussion on the Bloomberg Businessweek Business School Forum, visit us on Facebook, and follow @BWbschools on Twitter.
Before it's here, it's on the Bloomberg Terminal.
LEARN MORE