business
Bloomberg View: Let Turkey Progress Toward EU Membership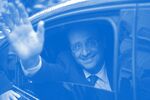 François Hollande should add an item to his daunting list of priorities: End France's block on Turkey's talks to join the European Union, and do it soon.
That may seem eccentric in light of everything Hollande already faces, what with the euro area's economic meltdown. But it isn't. EU leaders need to show direction and create momentum for the bloc in areas where they can reaffirm its purpose and values, even as the economy sputters.
Turkey's a good place to start. Unblocking its membership process would end the widespread impression that the EU discriminates against Muslims at a time when xenophobia, anti-immigrant feelings, and isolationism are rising within the mainly Christian nations of Europe.
In 2004, the EU agreed to give Turkey the chance to join the bloc, if it could show it had adopted the required 100,000-plus pages of EU legislation and other conditions of membership. Since then, 19 of the 35 negotiating chapters that are involved in this process have been blocked. Turkey is the only country in the EU's history to have its membership bid frozen in this way.
There are several causes for this, including a dispute over Cyprus, an EU member that Turkey doesn't recognize. In 2007, French President Nicolas Sarkozy unilaterally blocked five chapters that relate to Turkey's ultimate membership, and so long as that decision remains, Turkey has little cause to compromise on Cyprus. Sarkozy made his reasoning clear: namely, that Turkey wasn't part of Europe geographically and doesn't belong in it.
Removing the French veto would inject new life not only into the European project but also into its economic fortunes. Turkey grew by 8.5 percent last year and has a population with a median age of about 28, compared with 45 in Germany. Slow growing and demographically challenged as it is, the EU needs the fresh blood and energy that Turkey has to offer. The two economies are already closely tied. They have a customs union and trade heavily. More than $11 billion of the $16 billion of foreign direct investment made in Turkey last year came from the EU.
Turkey today is very different from 20, or even two, years ago. It has the kind of reach and soft power in the Middle East that the ex-colonial powers of Europe, including France, now lack. It has more troops than France and the U.K. combined. And it has learned, after a few years of hubris, that its anchorage in Western alliances is critical to its influence and security elsewhere.
It's highly uncertain that Turks would vote to join Europe if they were eventually to fulfill all the conditions. But the past few years have shown that without the active pull of the EU negotiations, Turkey's development as a free democracy has stalled or even reversed in some areas, including free speech and the rule of law. A stable, democratic Turkey is very much in the interests of the EU.
Hollande's victory was celebrated as much in Turkey as anywhere in Europe. Sarkozy's policy panders to segments of French popular opinion, but it reversed one set by President Jacques Chirac, and it can—and should—be reversed again.
Before it's here, it's on the Bloomberg Terminal.
LEARN MORE