Saffron Costlier (and Tastier) Than Gold in Most Expensive Hot Dog
by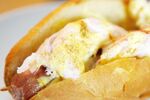 At $1,501, TheONEdog, a creation of Little Rock's "Hot Dog Mike" Juiliano, is the world's new most expensive hot dog. The ingredients: a premium quarter-pound all-beef dog topped with a lobster tail, saffron aioli, and gold dust on a gourmet potato bun.
Four TheOnedogs sold on May 11, according to the World Records Academy. (The proceeds went to charity.)
Juiliano—a 41-year-old who left the hospitality industry for a hot dog cart two years ago—threw in the gold dust for fun, but says the most expensive ingredient was actually the saffron.
"The saffron was about $561 per ounce. I bought enough to make the aioli out of it. I paid $60, which is a lot to make a little bit of mayo," he says. On Ediblegold.com 1 gram of gold dust costs $135.
The gold "just gets stuck in your teeth, everywhere," says Juiliano. "It's like a fine glitter. I just figured it's interesting to people. But it didn't need to be on there. It doesn't taste like anything."
Gold has been used to glitz up—and mark up—foods from ice cream (there's a $1,000 sundae) to cake (there's a £12,000 (about $19,200) chocolate cake). But not only does it have no taste, gold also does not offer any nutrition, according to Markus Lipp, director of food standards at the U.S. Pharmacopeial Convention in Rockville, Md. "It has decorative value, so it looks nice and completely hedonistic, but there is no nutritional value," he says. Since it is "highly doubtful that the body will metabolize it at all," it likely just passes through the system, he adds. (Yes, it's sad to let it go.)
A server at Serendipity 3 in D.C.—which sold its first $1,000 gold sundae at a 12-year-old's birthday party last year, reported Eater DC—says while the 23-karat gold leaf has no flavor, "it's something for a special occasion. If you get engaged, you can hide the ring inside." The buyer also gets to keep the gold spoon, he adds.
The previous wienie record was held by Vancouver's DougieDog, which sells "Dragon Dogs" infused with 100-year-old Louis XIII cognac for C$100 each (about $99.33).
Juiliano sold four TheONEdogs and kept $1 from each sale. He donated the remaining $6,000 to The One, an Arkansas nonprofit that helps the homeless.
Before it's here, it's on the Bloomberg Terminal.
LEARN MORE