Is Google+ a Ghost Town, and Does It Matter?
A new study suggests that Google+ is a virtual ghost town, where user engagement is rapidly waning
By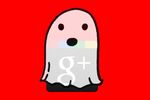 Google+ is a lonely place. At least according to a new study that paints the social networking site as a virtual tumbleweed town.