HP Sized Up Sun as a Technology Gold Mine
by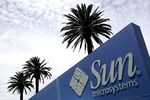 Unsealed court documents show that in 2009, Hewlett-Packard thought about buying Sun to boost its technology portfolio under a project code-named Blackbird.
In early 2009, Sun Microsystems was in play. Its major rival IBM had made a less-than-palatable acquisition offer for the one-time hardware darling, so Sun's executives made the rounds in Silicon Valley to see what other offers were available. One of the companies looking Sun up and down was HP. Executives at HP gave Sun the codename "Blackbird" and prepared a document assessing the pros and cons of an acquisition. That presentation has now been made public as part of the evidence filed in an ongoing legal squabble between HP and Oracle.
The most interesting aspect of the presentation may be how critical HP's executives were of their company's technology. They said that their HP-UX operating system "is on a death march" because it was tied to Intel's Itanium chip, which never lived up to expectations. (Oracle offers up the documents as support for its decision to stop developing for the chip.) HP also noted that it lacks key software intellectual property "upon which to build value," while citing Cisco, Microsoft, NetApp, and VMware as rivals that do have strong software plays.
HP fingered Sun as a quick way to boost its server, storage, and networking intellectual property. The Sun technology was seen as particularly appealing to facilitate an exit plan from Itanium that HP was secretly considering. Oddly, the HP executives also noted that Sun's vast software assets, such as Java and MySQL, "are of little value to HP and need to be divested."  About three years later, HP is on a desperate hunt for "software assets" and still needs a major IP infusion throughout its product lines.
The reality, however, is that while HP may have liked bits and pieces of Sun, it probably could not have swallowed the company back in 2009. HP had just made a huge deal for EDS and was consumed by the process of joining the two companies. This left the door open for Oracle to outbid IBM for Sun. That deal hasn't exactly been a smashing success, with Sun's hardware sales still declining at an alarming rate.
Before it's here, it's on the Bloomberg Terminal.
LEARN MORE