business
What Your Company's Website Really Says
Kristina Halvorson and Melissa Rach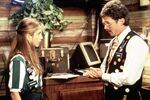 People don't visit your website to look at design or ask about your CMS (content management system). They come for the content. If you want to keep viewers coming back, it's worth your time and money to get it right. Here are a few companies that do—and some that don't.
Good: Chevron

Chevron serves up good content for a very diverse audience. While product information is easily available, the company puts human interest stories first—creating a nice foil to the "big oil company" stereotype. Some pages get a bit long and convoluted, but most content seems up-to-date and accurate, which is more than many other big company sites can claim.
Not so good: BP

Among its many maladies, BP's website content suffers from poor presentation. A "summary results" table on the company's 2012 first-quarter stock performance is dominated by dense, complicated content. Conversely, BP's "business strategy" is demonstrated by an oversimplified graphic with no supporting content (other than a stack of PDFs).
Good: Disneyworld

It makes sense that people who make their money telling stories would be good at content. Disneyworld.com is well-organized and provides most of the information a family might need to plan a trip to the "Happiest Place on Earth." The site balances logistics (pricing, room sizes, and dining options) with engaging content—all the things that make Disney exciting to people young and old.
Not so good: Six Flags

The Six Flags website is a mishmash of ads, social media widgets, images, and links. Useless marketing copy gets in the way of useful information, forcing readers to wade through blocks of pointless, overwritten text. That valuable screen space could be used for bigger images, interactive media, and content that would do a much better job of portraying the park as a fun place to visit.
Good: Babycenter.com

Johnson & Johnson's Babycenter is the go-to site for parents and parents-to-be. Both on desktop and mobile, the site serves up a good combination of personalized content, credible expert information, user-generated features, and—very stealthily—Johnson & Johnson product placement.
Not so good: Babyzone

The minute you hit the home page, Disney's baby-centric site feels disjointed and overwhelming. After some digging, you'll find well-crafted articles and interesting videos, but generally it's as if the site has become a dumping ground for content that's being churned out with no real editorial oversight. Perhaps this Disney division lacks the resources to properly support the site on an ongoing basis. If so, it's probably time to put this one to bed.
Before it's here, it's on the Bloomberg Terminal.
LEARN MORE