The U.S. Has Lagarde's Back
by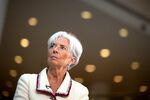 If the image of Europe is blurred from a European perspective, the picture is clear for the rest of the world, which easily recognizes Europe's uniqueness. In my travels around the world—my past experience as chairman of Baker & McKenzie offered me, in this respect, more occasions than I would have wanted—I have always been struck by the fact that European countries and people are naturally perceived as having this "something" in common that sets them apart and makes them different from other parts of the world. Ask an American, a Chinese, or an African what is Europe and their response will certainly be more clear-cut than if you ask a Spanish, British, or French citizen. They will mention human rights, the welfare state, freedom of expression and culture, civilization, and probably history.
—Christine Lagarde, "Europe and the World Trade Round: Seizing the Opportunity for Development and Growth," London School of Economics, London, Oct. 17, 2005.
The year 2005 was long ago and far, far away.
It has been quite a 30 hours. After a relatively quiet weekend, the toxic combination of JPMorgan Chase derivatives, Greece politics, Spanish banking, and the Dale Hunter-less Washington Capitals has provided "uniqueness."
The above is from a thoughtful speech by then-French Trade Minister Lagarde, now leader of the Western World, vintage 1964—aka the International Monetary Fund.
Crisis is at hand. This "something" is going down in flames. It's time to bring in the grown-ups. Don't bet against Madame Lagarde; the U.S. has her back. Discuss.
Before it's here, it's on the Bloomberg Terminal.
LEARN MORE