How Political Uncertainty Slows Global Investment
Spotting the connection between investment and elections
By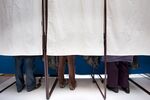 As the U.S. presidential campaign grinds on, it's important to keep the big picture in mind: More than 60 elections are scheduled around the world this year, from France to Greece to Venezuela and beyond. China, though technically not staging an election, is in the midst of a delicate transfer of political power from one president (Hu Jintao) to his presumed successor, Xi Jinping. That could lead to a substantial slowing of global investment.
Brandon Julio, assistant professor of finance at the London Business School, has studied the impact of political uncertainty on companies' investment decisions, along with Youngsuk Yook of South Korea's Sungkyunkwan University. Their examination of investment during election years in countries from Argentina to Zimbabwe found that investment rates drop by an average of 4.8 percent in the period leading up to an election. (The research covered elections from 1980 through 2005.) It's not 4.8 percent across the board: Turbulent, violent elections drive investment rates down further, while countries with very predictable outcomes experience less of a drop in investment.
What about this highly political year? In a phone interview, Julio says he estimates that a 4.8 percent pre-electoral drop in investment around the world could result in the loss of 1.4 million jobs. Assuming companies get the certainty they were seeking after the many elections are held, job losses would be quickly reversed. Still, the election-heavy calendar comes when many countries need as much investment as possible. "It's a perfect storm," says Julio.
Before it's here, it's on the Bloomberg Terminal.
LEARN MORE