How Did the Original J.P. Morgan Do It?
An NYU professor figures was cheaper and more efficient in 1910 than in 2012
Chris Farrell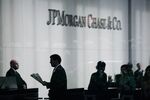 The United States emerged as the world's leading industrial nation between the Civil War and the First World War. The towering heights of American capital were dominated by a handful of investment banks, with the most prestigious firm being J.P. Morgan & Co. Despite their considerable power, the investment banks were small. Morgan had a baker's dozen of partners with at most three clerks per partner in the early 1900s, according to J. Bradford De Long, economist at the University of California, Berkeley. Even as late as the 1960s, Wall Street comprised some 20 partnerships with an average of 500 employees and an aggregate capital base of less than $100 million, estimates Roy Smith, former Goldman Sachs partner and economic historian at New York University Stern School of Business.