business
The New GMAT: Questions for a Data-Rich World
Alison Damast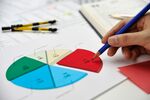 Editor's Note: This is the first in a three-part series on the new GMAT, which makes its official debut on June 5. In this article, we examine the conceptual building blocks for the test's new Integrated Reasoning section.
On a blustery day in February 2009, a group of nine deans and faculty members from U.S. and European business schools huddled together in a conference room in McLean, Va., at the Graduate Management Admission Council's headquarters. They were there to discuss what would be some of the most radical changes to the Graduate Management Admission Test (GMAT) in the exam's nearly 60-year history.
Luis Palencia, then an associate dean at Spain's IESE Business School, was eager to press his case for the skills he thought today's MBAs needed to have at their fingertips. Business students must be able to nimbly interpret and play with data in graphs, spreadsheets, and charts, using the information to draw swift but informed conclusions, he told his colleagues.
"The GMAT was not becoming obsolete, but it was failing to identify the skills which might be important to warrant the success of our future candidates," he said in a phone interview from Barcelona three years later.
By the time the faculty advisory group commenced two days later, they had come up with a set of recommendations that would serve as a framework for what would eventually become the new "Integrated Reasoning" section of the Next Generation GMAT, which has been in beta testing for two years and will be administered to applicants for the first time on June 5.
Until now, the B-school entrance exam, which was administered 258,192 times worldwide in 2011, was made up of verbal, quantitative, and two writing sections. The new section, which replaces one of the writing sections, is the biggest change to the GMAT since the shift to computer-adaptive testing 15 years ago, and one that has been in the works since 2006, when GMAC first decided to revisit the exam and the skills it was testing, says Dave Wilson, president and chief executive officer of GMAC.
"At that time, we got a pretty good handle that the GMAT was working, but we wanted to know if there was anything that we weren't measuring that would provide real value to the schools," Wilson says.
It turned out there was a whole slew of new skills business school faculty believed could be added to the exam. The recommendations put forth by Palencia and the rest of the committee that convened in 2009 served as the conceptual building blocks for what a new section might look like. Later that year, GMAC surveyed nearly 740 faculty members around the world, from business professors to admissions officers, who agreed with many of the committee's findings and suggested that students needed certain proficiencies to succeed in today's technologically advanced, data-driven workplaces.
For example, they gave "high importance" ratings to skills such as synthesizing data, evaluating data from different sources, and organizing and manipulating it to solve multiple, interrelated problems, according to the Next Generation GMAC Skills Survey report.
Those are all examples of skills that can now be found on the 30-minute Integrated Reasoning section, which GMAC has spent $12 million developing over the past few years, Wilson says. It will have 12 questions and include pie charts, graphs, diagrams, and data tables. The section employs four different types of questions that will allow students to flex their analytical muscles.
For the past year and a half, a small group of business school admissions officers has been working with GMAC to get the word out to other admissions officers and prospective students around the world. The advisory committee has been doing everything from consulting GMAC on how the new section should be scored to informing the testing administrator about how they plan to use the new section to evaluate applicants, says Dawna Clarke, director of admissions at Dartmouth College's Tuck School of Business. She's also helped reassure nervous prospective applicants that the new section will likely work in their favor.
"Some people may not be particularly strong quantitatively, but they may have really strong integrated reasoning skills," says Clarke. "I think the new section will give them an opportunity to shine in the admissions process in a way they may not have been able to do before."
Also serving on the advisory group is Stephanie Fujii, executive director of admissions at the University of California at Berkeley's Haas School of Business. She's been a proponent of the new section, especially given that her school had revamped its curriculum a few years ago to include a core course called "Problem Finding and Problem Solving."
"Being able to get one more data point on a candidate's analytical and evaluative skills was something that was very compelling for us," Fujii says.
Coming Next Week: In part two of the series, Bloomberg Businessweek takes a look at how GMAC developed the new questions for the exam, along with some of the challenges it faced launching a new section.
Before it's here, it's on the Bloomberg Terminal.
LEARN MORE