The Good Barbarian: How Icahn, Ackman, and Loeb Became Shareholder Heroes
By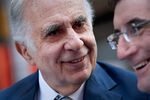 It has been a rewarding week for activist investors. Carl Icahn succeeded in his $2.6 billion bid for CVR Energy on May 7, Bill Ackman picked up some powerful allies for his May 17 proxy battle at Canadian Pacific, and Dan Loeb scored a major victory with the May 13 resignation of Yahoo chief Scott Thompson. Moreover, despite management efforts to paint these hedge fund managers as opportunists, the trio has had public sentiment on their side. While bankers stand accused of hubris and excessive risk-taking, men who have invested billions in public companies with the clear goal of making much more are held up as defenders of the average investor.
A generation ago such investors typically grabbed headlines under a different label: corporate raiders, robber barons, barbarians at the gate. In boardroom dramas, they were cast as the cold, calculating capitalists who ruthlessly used their power to slash jobs, liquidate assets, and destroy venerable brands. Sometimes, management had to buy back shares at inflated rates to dodge a takeover—a form of "greenmail" that helped boost the coffers of such investors as T. Boone Pickens and Icahn himself. In fact, few came to epitomize the scorched-earth tactics of the 1980s quite like Carl Icahn, whether it was forcing BF Goodrich to pay a 25 percent premium on his shares to stop him from buying more or selling off the prized assets of TWA after seizing control. No wonder he was one of the inspirations for Gordon Gekko in the 1987 film Wall Street. (Icahn is widely credited with the line, "If you want a friend, get a dog.")
No more. Today, Icahn is the elder statesman in a generation of activists as likely to be praised for holding management accountable as condemned for draining a company's value. So how did the robber barons of yesteryear become the shareholder's best friend? Why do they now seem more interested in running companies than stripping them? The answer comes down to a shift in rules, techniques, and investor attitudes. Leveraged buyouts and hostile takeovers have morphed into proxy battles, ad campaigns, and shareholder resolutions.
One reason is strategic: Activists no longer need to take over a company to get their way. They can leverage the impatience shareholders have for ineffective boards and managers. It's now possible to nominate as few as one director to a board and initiate change by cooperating with board members instead of ousting them. Ackman owns just over 14 percent of Canadian Pacific; Loeb's stake in Yahoo is 5.8 percent. In that scenario, winning becomes a game of diplomacy, not aggression. And the spoils are shared among many. Barry Rosenstein's Jana Partners, for one, often pressures boards to adopt new strategies without resorting to open battle. Even Ackman's Pershing Square Capital Management has staged only three proxy battles over the past eight years. "Nobody wants to have a public battle," says Ackman, who estimates he's spent up to $15 million on the Canadian Pacific proxy fight. "We prefer to work with boards in making changes that increase shareholder value, but sometimes you have to go to the mat."
Few people understand what's at stake more than Chris Cernich, who heads up M&A and proxy-contest research at Institutional Shareholder Services. As the man who advises some of the world's largest pension funds, insurers, and other institutional investors on how to vote in such battles, he has seen what works and what doesn't. "The least effective way to do activism these days is to come in with a big club," says Cernich. The best result is to have a board acquiesce. Failing that, activists have to win over fellow shareholders and a fickle public.
It helps that public attitudes have changed. All the tools once used to avert activists in the boardroom, from poison pills that avert takeovers to golden parachutes that enrich management, are seen as negatives for shareholders. Outrage over executive compensation, cozy boards, and lax oversight has also shifted views of activism. Some argue that the lure of stock options has made management as vulnerable to greed and short-term thinking as anyone investing in the company. Moreover, some of the activism isn't focused just on the bottom line. Shareholders increasingly pressure companies on such issues as divestment, diversity, sustainable practices, pay, and human rights. In April, Citigroup shareholders successfully rejected Chief Executive Vikram Pandit's compensation package because of the bank's weak performance.
Of course, this newfound love of activists only goes so far. Many investors remain wary about both the motives and the techniques of those seeking big changes in pursuit of big profits. The continued attacks on Republican candidate Mitt Romney's record at Bain Capital are proof that terms such as "corporate raider" and "vulture capitalist" still resonate with some portions of the public. But few are willing to jump to the defense of CEOs who lie on their résumés or underperform their peers over a period of years. And nothing softens the rhetoric of an activist investor like the sweet smell of success. As Dan Loeb wrote in a May 9 letter to the Yahoo board, he takes "no joy in witnessing this carnage" he helped to create. He just wants to make money. For those who stand to profit by going along for the ride, that makes Loeb and his saber-rattling peers worthy of admiration and support.
Before it's here, it's on the Bloomberg Terminal.
LEARN MORE