Ron Paul Stops Campaign to Focus on Convention
By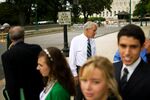 Texas Congressman and three-time presidential candidate Ron Paul announced that he is going to stop campaigning in primary states, focusing instead on a rough-and-tumble fight for delegates at the Republican National Convention this August.
In a statement e-mailed to reporters, Paul said he "simply" didn't have the "many tens of millions of dollars" it would take to run a ground campaign in the 11 states that will hold primaries between Tuesday and June 26.
The strategy makes sense for Paul and is the best he can do, given that he has just $1.8 million in the bank, says campaign spokesman Gary Howard. He says the campaign has spent $10 million on ads in six states: Iowa, New Hampshire, South Carolina, Nevada, Vermont, and Rhode Island. Paul has yet to win a single primary, and his campaign has never been able to run advertising on a scale that would rival his opponents.
But Paul has been picking up delegates in so-called caucus states, in which convention delegates are not bound by the results of the primaries. He has picked up more than 15 delegates in just the past week. In Iowa, where Paul finished third, his campaign chairman became state chairman, and Paul continues to pick up convention delegates. According to RNC rules, those delegates can nominate him "from the floor," at the convention if Paul has a plurality of supportive delegates in at least five states. None of the remaining primaries is a caucus state.
I explained how this delegate process works in a previous post.
What makes the Paul campaign so interesting are the lengths that his die-hard supporters will go to get him on the ballot. Many of these grassroots supporters are not officially connected to the campaign as volunteers but will show up at local caucus events and try to get elected as delegates anyway.
Before it's here, it's on the Bloomberg Terminal.
LEARN MORE