Remember MySpace? A Closer Look at Yahoo CEO Levinsohn's Résumé
Ross Levinsohn might not want to highlight helping News Corp buy MySpace
By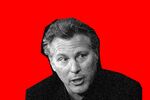 The computer science degree that wasn't (PDF) proved the undoing of Scott Thompson at Yahoo.
The struggling Web portal today named Ross Levinsohn its interim chief executive after Thompson resigned. Presumably, Levinsohn's bachelor's degree in communications from American University checks out. So what else is on his résumé? For the past two years he was Yahoo's head of global media. Levinsohn built a reputation for online media savvy at News Corp., where he worked from 2000 to 2006 and rose from running FoxSports.com to overseeing all of Rupert Murdoch's Web ambitions as head of Interactive Media.
In that role he was instrumental in one of Murdoch's more disastrous new media forays—the purchase of MySpace and its parent company Intermix for $580 million in July 2005. Hard as it may be to remember, MySpace dwarfed Facebook at the time, with 22 million monthly visitors to Facebook's 8 million, and was still rising to its 2008 peak of more than 75 million monthly visitors. That story ended with News Corp finally cutting its losses and selling the largely abandoned property for $35 million last year—not exactly a highlight on anyone's curriculum vitae.
Still, as reports of his promotion have pointed out, Levinsohn took part in MySpace's greatest coup: inking a $900 million deal with Google to run the site's search function and place some of its ads. Yet according to Stealing Myspace, Julia Angwin's excellent corporate history, Levinsohn played a background role in the deal. The point man was Scout.com founder Jim Heckman, who pulled Google into the bidding and hammered out terms with its negotiator, Tim Armstrong, during a corporate retreat at Pebble Beach, Calif., in July 2006.
Levinsohn was one of a pair of executives who gave "final approval." Angwin portrays Levinsohn primarily as a pawn in Murdoch's games of corporate intrigue. When Murdoch put him in charge of the entire Internet empire, writes Angwin, the "huge elevation" was a way to make sure that Murdoch could dominate the relationship and "interfere as much as he liked."
Levinsohn and MySpace founders Chris DeWolfe and Tom Anderson never really got along, especially after News Corp. moved the company office from hip Santa Monica to staid Beverly Hills. And Levinsohn, said colleagues, referred to managing the fast-growing MySpace as "holding a tiger by the tail." News Corp. relieved him of that problem in late 2006. Now that he has hold of the wounded animal that is Yahoo, Levinsohn may come to miss the tiger.