Hollande: From B-School to the Élysée Palace
By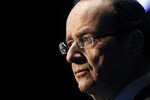 When Francois Hollande takes office tomorrow, he will be the first president of France to have a business degree. And his alma mater, HEC Paris, will be in line for some presidential bragging rights.
The international business school is well-known for churning out the elite of French industry, including L'Oréal (OR:FP) Chief Executive Officer Jean-Paul Agon, France Telecom chief Stephane Richard, and AXA (CS:FP) CEO Henri de Castries.
Nearly 16 percent of the French board members at companies in the CAC 40 index—some of the largest companies listed on the Paris Bourse—are HEC alums, Le Monde reported last week in a story about the school's growing list of influential alumni. That compares to about 9 percent of board members who attended France's other top business schools (ESSEC and ESCP Europe), the newspaper said, citing a study co-authored by Francois-Xavier Dudouet, a sociologist at Le Centre National de la Recherché Scientifique.
HEC's influence also extends to politics—World Trade Organization Director General Pascal Lamy and former IMF chief Dominique Strauss-Kahn are graduates.
However, finding business school alumni among heads of government is a relatively recent phenomenon, and HEC now counts two of them: Senegal Prime Minister Abdoul Mbaye is also an alumnus. Hollande received a Grande Ecole from the school, which is a pre-experience master's degree and HEC's most well-known program, says Dean Bernard Ramanantsoa. Hollande graduated in 1975.
HEC isn't alone in laying claim to heads of state. In a 2011 story about "The Rise of the MBA Politicians," the Financial Times reported that former Prime Minister Wim Kok of the Netherlands is an MBA from Nyenrode. George W. Bush was the first U.S. president to hold an MBA, having graduated from Harvard Business School in 1975.
Is a business degree useful for political leaders? Ramanantsoa says it is: "If someone wants to be a leader in politics, they must first master economic issues. Second, they must master international issues," he says. "Business education is important for that."
Before it's here, it's on the Bloomberg Terminal.
LEARN MORE