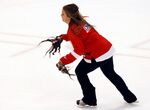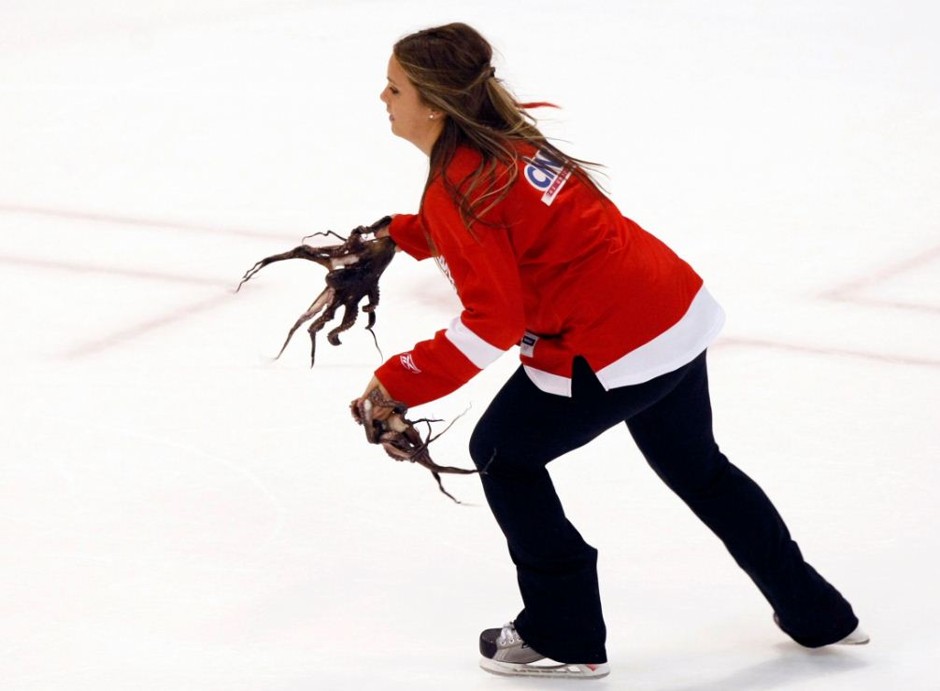 The Phoenix Coyotes got an unexpected addition to their roster last Friday while battling the Nashville Predators: Somebody chucked a slimy, whiskered catfish onto the ice. A smiling puck-girl had to cart it off in her bare hands before play could resume.
Turns out this kind of thing is fairly common in the world of hockey fandom. While Nashville shows its team pride with volleys of aquatic craniates, other cities celebrate their franchises with slabs of beef, dead octopi, or rubber phalluses. So you know what to pack for your next hockey game, here's a quick guide to who throws what:
DETROIT = OCTOPI
The Red Wings basically started the whole throwing-bizarre-crud-onto-the-ice tradition when a pair of brothers lobbed an octopus during the 1952 Stanley Cups playoff. (They won it.) Detroit has since embraced the octopode as its spirit animal, throwing suction-cupped beasts as heavy as 50 pounds into the heat of the action and naming a team mascot Al the Octopus. One of the poor souls tasked with sweeping up the ice has commented: ''They are so gross. They're huge, they're heavy, they stink and they leave this slimy trail on the ice. But, hey, if it's good for the team, I guess we can deal with it.'' So why these creatures? Legend has it that each of the tentacles symbolizes a playoff win. Makes sense.
FLORIDA = RUBBER RATS
The origins of the so-called "rat trick," in which Florida Panthers fans send an ungodly barrage of fake rats onto the ice, dates back to 1996, when player Scott Mellanby discovered a huge rat circulating in his dressing room. He split it open with his stick and then scored a couple decisive goals, inspiring the icky rodent tradition. Before the tradition was banned in 1996 because it was delaying the game so much, the rat-rains would get so heavy that goalies took cover inside their nets.
STOCKHOLM = DILDOS
This one-time Swedish celebration started in 2008 in response to a leaked sex video of former AIK player Jan Huokko, who did some very naughty things with a rubber phallus. The horrific bombing of sex toys inspired lovely headlines in the press, such as "Swedish hockey fans delay match with dildo downpour" in The Local. The reporter responsible for that fun article noted:
AIK club management was aware of their fans' plans for knocking Huokko off his game, but elected not to intervene. "We'd also heard mention of it, but we decided that it would only be worse if we went out and told the fans they were absolutely not allowed to throw dildos on the ice," said AIK club head Mats Hedenström to the newspaper.
CAMBRIDGE, MASSACHUSETTS = CHICKEN
Harvard fans deployed a frozen chicken after their team scored a goal in the early 1970s, inspiring...
ITHACA, NEW YORK = FISH
Cornell fans to throw fish at subsequent games.
DURHAM, NEW HAMPSHIRE = ROTTING FISH
Backers of the Wildcats, the hockey team of the University of New Hampshire, fete big goals with fish that's far from sushi-grade. The proper preparation for a Wildcats fish is to buy a big one and leave it sitting someplace warm for a few days. Once ripe enough to kill the flies buzzing overhead, it's ready for prime time. According to the university's magazine:
There are many famous fish stories. For example, there's the time the UNH mascot, Wild E. Cat, attempted to throw the fish in Snively Arena. Instead of landing on the ice, the fish hit a Yale assistant coach. "He was an Italian guy, and they called him the Godfather," UNH coach Dick Umile '72 relates. "They now call him the Codfather."
NASHVILLE = CATFISH
Predators players are supported by an army of catfish-flinging maniacs, who may or may not catch them by noodling. The tradition began in 2002 as a response against the Red Wings military use of octopus. The catfish get so thick sometimes that shovels are required to scoop them off the ice.
SAN JOSE, CALIFORNIA = SHARKS
At least twice since 2007, somebody in the crowd has rotated a shark into play. These aren't small-fry, either: During a match between the San Jose Sharks and the (yep) Red Wings, the beast that made it onto the ice measured 4 feet long.
TORONTO = WAFFLES
In 2010, Joe Robb earned a lifetime ban from the Air Canada Centre after he Frisbeed some waffles into a Toronto Maple Leafs game. (He was imitating an earlier waffle-tosser.) Robb wanted to use these breakfast foods to indicate his displeasure over the team losing to the Atlanta Thrashers. Robb complained of his ban: "People throw hats when they think they're playing good. Why can't we do something to show disapproval for what's happened over the past 44 years -- especially in my lifetime, 25 years of robbing us and lies?"
EDMONTON, ALBERTA = BEEF
During the Mad Cow scare of the '90s, an Oilers fan lifted a big slab of beef over the wall. No idea why, but it was Alberta beef, in case you're wondering.
Top photo: A member of the ice crew removes an octopus during Game 3 of the NHL Western Conference semi-finals hockey game between the Sharks and the Red Wings in Detroit, in May 2011. REUTERS/Rebecca Cook