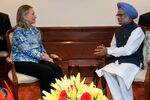 For almost two years, Indian officials have been steamed about a move by American lawmakers that raises costs for the country's outsourcing industry. In August 2010, with midterm elections on the horizon, the U.S. Congress approved a proposal that nearly doubled the fees companies pay to get certain work visas for non-U.S. employees.
Many Indians feel the move targets local outsourcing powers like Tata Consultancy Services and Infosys. After Congress approved the changes, which raised application fees for H-1B and L-1 visas to about $4,300 from their previous level of $2,000, the Indian Trade Minister, Anand Sharma, said the law was "highly discriminatory."
Now the government of India Prime Minister Manmohan Singh is promising to take action. In a letter to the upper house of Parliament, Minister of State for Commerce and Industry Jyotiraditya Scindia on Wednesday said India would pursue the issue with the U.S. under the dispute settlement mechanism of the World Trade Organization. The 2010 rules are "prima facie discriminatory for Indian companies," Scindia said, according to a report from the Press Trust of India.
The move comes on the heels of Secretary of State Hillary Clinton's visit this week to India, and with the Obama administration hoping to focus on issues like Iran and Afghanistan, the Americans tried to address Indian concerns about visas. "We are working through those issues," State Department spokeswoman Victoria Nuland told reporters, according to the Indo-Asian News Service. "But we continue to fully support the admission of qualified Indians under these programs."
With November's U.S. election approaching and the unemployment rate still above 8 percent, Indians shouldn't expect a whole lot more from the talks with the U.S. After all, the Senate may be deeply divided about most things but ahead of the midterm elections in 2010 it managed to approve the fee increases unanimously. Fighting back against the Americans, though, might help Singh's beleaguered coalition government score some desperately needed points with Indian voters.
Moreover, if the consultation talks lead nowhere, the Indian government could then ask the WTO to weigh in. However, chances of success are not great, says Biswajit Dhar, director general of Research and Information Systems for Developing Countries, a think tank in New Delhi that is under the Ministry of External Affairs. "India has a fistful of evidence," says Dhar. "But a dispute before the WTO will be tough to navigate for India." Dhar cites what he calls the WTO's "loosely worded" rules, which should help the Americans defend themselves. "The U.S. will have its choice of loopholes to squeeze through to avoid facing any real WTO violation," he says.
The Indian outsourcing industry could use a bit of good news. Some of the country's biggest IT services companies are struggling as business softens and stock prices plunge. For instance, the Mumbai-listed shares of Infosys, India's second-largest IT company, have dropped almost 17 percent since the start of the year, compared with a 5.7 percent increase for India's benchmark Sensex stock index.
Cognizant Technology Solutions, a company with its headquarters in Teaneck, N.J., but most of its workforce in India, had a rough time this week after scaling back its projected revenue for the year to $7.34 billion, compared with an earlier target of $7.53 billion in February. "Clients are being very cautious," Cognizant President Gordon Coburn told Bloomberg News on May 7. "We're still seeing growth. We're still seeing an acceleration in the business, but it's just not as strong an acceleration as we anticipated."
Investors are jittery. On May 7, Cognizant's stock price fell the most in more than four years, dropping 19 percent. The stock rebounded 7 percent the next day after buy recommendations from analysts at Citigroup and Robert W. Baird.
Before it's here, it's on the Bloomberg Terminal.
LEARN MORE