Hospitals Seek Startups to Cure Tech Ills
By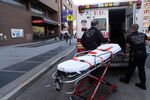 Until recently, officials at NYU Langone Medical Center in Manhattan thought patients who had joint replacement operations were readmitted because of complications about 3.5 percent of the time.
Then they got their hands on federal Medicare data that revealed the rate was more than twice as high, when accounting for patients who also went to other hospitals. The majority of NYU Langone's patients live outside Manhattan, and the hospital had no way of knowing whether they wound up at a different medical center with problems that materialized after surgery. "Trying to manage something you can't even measure is very difficult," says Richard Donoghue, senior vice president for strategic planning at the hospital.
That problem is pervasive in the U.S. health-care industry, where only 35 percent of hospitals have adopted electronic health records (PDF). Donoghue joined executives from other New York hospitals on May 10 to share the vexing IT challenges health-care providers face and appeal to the startup community in New York for help.
The occasion was the launch of the New York Digital Health Accelerator, a program that will give 12 health IT startups access to the state's health-care providers and, just as importantly, their data to design software that improves care. Backed by investors from the health-care industry, venture capital firms, and the New York City Investment Fund, the accelerator will provide up to $300,000 in funding for the 12 companies selected. Companies have until June 1 to apply and will be chosen over the summer. Companies outside New York must relocate in the state at least for the length of the program.
Health-care providers "have near-term needs for products and technologies that we all believe are lying in the entrepreneurial sector," Maria Gotsch, president of the New York City Investment Fund, told the audience of health industry professionals and tech companies that are considering applying. (Bloomberg L.P., the parent company of Bloomberg Businessweek, is among dozens of partners in the fund.)
In addition to face time with hospital execs, the dozen startups chosen will get access to the State Health Information Network of New York, a mechanism for the state's health providers to share information. As it's used now, a family doctor, say, can easily look up the results of tests done by different specialists, without need to call separate offices. The idea is to spark software applications that can improve communication and coordination among care providers and patients.
Dr. David Cohen, vice chairman of medicine at Maimonides Medical Center in Brooklyn, recounts the kind of communication failure that health-care providers need better technology to solve. A patient who showed up at a Maimonides clinic with several chronic conditions was also diagnosed with psychiatric problems after she reported a cough "that was brought on by the spirits." The clinic helped her get psychiatric help and get back on medication to treat the problem.
Doctors contacted her family and tracked her for about two months, Cohen says, and then lost touch with her. "When we finally found her, it turned out she had had two subsequent hospitalizations for psychiatric problems," he says. "Both at Maimonides Medical Center. We didn't know it, our psychiatry staff didn't know it. It was ridiculous. We need to be able to do better."