China's Economy May Soon Get a Loosening
by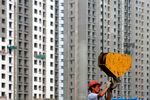 When will Beijing take steps to boost its flagging economy? That's an ever more urgent question after disappointing trade, investment, spending, and output numbers released over the past two days. Now easing could come quickly, most likely with a further cut in bank reserve ratios, economic analysts say.
"The data is a signal they need to do a little bit more in terms of restoring confidence and loosening policy," says Andrew Batson, research director at Beijing-based economic consultancy GK Dragonomics. "We have been expecting a reserve ratio cut for weeks. Now they could do that in fairly short order."
"Today's data on April spending and output put another nail into hopes that China's economy is bottoming out," writes Mark Williams, chief Asia economist at London-based Capital Economics, in a May 11 research note. China's economy grew just 8.1 percent in the first quarter, its slowest pace since 2009. "This run of poor data will shake policymakers' confidence and we expect it to prompt further policy easing. A required reserve ratio cut must surely be imminent."
China's central bank has already reduced bank reserve requirements twice in the last six months, in November and February. Interest rates, however, have not been cut since the global financial crisis in 2008; one-year lending rates are now at 6.56 percent. Most economists are expecting another reserve cut to precede any possible interest rate adjustments, however.
First came the disappointing trade numbers on May 10. April exports grew by just 4.9 percent, down from 7.6 percent in the first quarter, and below what had been expected. Particularly grim: exports to the EU that fell by 2.4 percent (exports to the U.S. have been strong, up 10 percent). "Given the ongoing drama in the euro zone, we see some downside risk to our [10 percent] export forecast for 2012," wrote Tao Wang, an economist at UBS Securities in Hong Kong, in a May 10 note.
Meanwhile, imports disappointed, too, up just 0.3 percent in April, compared with 5.3 percent in March, also well below expectations. Looking more closely at the numbers, processing imports, or those goods to be later used in exports, were particularly weak—not good news for China trade going forward.
"Imports from ASEAN, Hong Kong, Taiwan and Korea all declined over a year ago," wrote UBS's Wang. "Much of the imports from these economies are processing components—indeed, overall processing imports declined in April—which suggest that processing exports will likely weaken further in the next couple of months, troubling for the general export outlook in Q2."
Then a day later on May 11 came more dismal data. Fixed asset investment over the first four months grew 20.2 percent, below the Bloomberg median forecast of 20.5 percent. Retail spending came in at 14.1 percent in April, weaker than the previous month's 15.2 percent. Industrial output growth was 9.3 percent last month, down from 11.9 percent in March; that was its slowest pace since 2009. Meanwhile, most economists had been predicting instead a rebound, with the Bloomberg survey expecting a quickened 12.2 percent growth rate for April. And new yuan loans missed forecasts, too, at 681.8 billion yuan ($108 billion) last month, compared with the median economist estimate of 780 billion yuan.
The one indicator that is being spun as positive? That's inflation, which eased as expected, slowing to 3.4 percent last month over the previous April, and down from a 3.6 percent reading in March. That's because success taming prices suggests Beijing policy makers may finally have more room for action. "Looking on the bright side, the inflation data released earlier today demonstrate that there is room to ease policy further," writes Capital Economics' Williams.
"The government has been trying this year to not loosen monetary policy very much because they are worried about local government debt, are worried about reinflating the bubble in the real estate market—so the support they have been giving the economy has been pretty modest," says GK Dragonomics' Batson. "The risk has been that they have not done enough."
Before it's here, it's on the Bloomberg Terminal.
LEARN MORE