Chanel Breaks Through Clutter With Brad Pitt as New Face of No. 5
By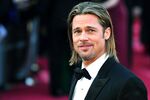 Luxury fashion house Chanel confirmed yesterday that Moneyball star Brad Pitt would be the new representative for Chanel No. 5.
Past models for the famous women's fragrance have included movie stars Nicole Kidman, Audrey Tautou, and Vanessa Paradis. But a man?
Though the decision marks a break from tradition, it's in keeping with Chanel's long-running ad campaign in that it not only trades on Pitt's unimpeachable seductiveness (twice confirmed by People magazine's Sexiest Man Alive cover), but also brings to mind his equally glamorous partner, Angelina Jolie. In part, "this is a way of saying Angelina Jolie without saying Angelina Jolie," says William M. O'Barr, professor of cultural anthropology at Duke University and author of ADText, an online textbook about advertising and society. "What's true about Chanel spokespeople is they are people with classic beauty, and I think this is Brad Pitt's charm here."
"There is also the implication that the fabulous Ms. Jolie might use the perfume, and thus be worthy of emulation," says Sidney J. Levy, professor of marketing at the University of Arizona. "While it is a cliche to say [women] really dress for other women," Levy adds, "they surely care about how they smell to men."
Pitt is not the first man to sell women's products. Bob Dylan appeared in a Victoria's Secret ad in 2004. In India, women's soap brand Lux ran an ad featuring Bollywood star Shahrukh Khan in a bathtub filled with flower petals and surrounded by four actresses. "The novel commercial was an enormous success both because viewers liked it and because the press gave it an extraordinary amount of publicity," according to ADText.
O'Barr says part of advertising is breaking through the clutter. "Someday someone might ask me, why is that gorilla coming down the staircase with underwear in its mouth? I'll say it's the shock value of it all. That's perhaps the most important thing going on here. Attention and publicity. It works beautifully."
Pitt has also appeared in ads for Levi's jeans, Heineken, Tag Heuer, as well as commercials in Japan, according to IMDb. Chanel will pay Pitt seven figures, reported People, and the perfumer's first television ad featuring Pitt will be released overseas later this year.