B-School Research Briefs
Francesca Di Meglio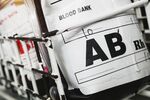 Things are not always as they seem. Recent business research, for instance, undoes some conventional thinking. Blood donors need some incentive to tap a vein, the kids who ruined the curve in class are more vital to business than anyone thought, and women may be facing a losing battle when it comes to raising IPO cash. Learn about these new studies below:
There Will Be Blood: When organizations offer swag—T-shirts, jackets, coupons, or gift cards—to potential blood donors, there is a 15 percent to 20 percent rise in blood drive donations, according to a study by professors Nicola Lacetera of the University of Toronto Rotman School of Management and University of Toronto – Mississauga, Mario Macis of Johns Hopkins University's Carey Business School, and Robert Slonim of the University of Sydney School of Economics.
For their study, published in a recent issue of the American Economic Journal: Economic Policy, the researchers conducted a field experiment and examined data from 14,000 blood drives involving 500,000 donations in the U.S. Large randomized controlled trials in the U.S. and Argentina confirmed the results. While the research demonstrated that incentives did not change a donor's motivations, it did show that swag could pull donors away from drives that did not offer such bonuses, according to a Rotman press release. Determining methods to encourage blood donation is important, according to the study, because of the short supply and increasing demand.
The Bell Curve, Debunked: Suddenly being just average sounds a whole lot better. For years, researchers have believed that most human performance follows a distribution known as the bell curve for its distinctive shape: a few outliers at either end of the spectrum and the vast majority in the middle, where the merely average reside. But researchers Ernest O'Boyle Jr. at the University of Iowa and Herman Aguinis at the Indiana University Kelley School of Business recently debunked the bell curve in "The Best and the Rest: Revisiting the Norm of Normality of Individual Performance," published in the Spring 2012 issue of Personnel Psychology.
The team conducted five studies involving 633,263 researchers, entertainers, politicians, and athletes and found a significant number of elite performers, known as outliers on the bell curve, while the majority performed below the mathematical average. Managers, according to the study, should identify superstars who drive most of the output—and train and reward them accordingly—as opposed to focusing their attention on everyone else.
Gender Bias in IPOs: Investors are less likely to put their money into an enterprise led by a female CEO, according to "Skirting the Issues: Evidence of Gender Bias in IPO Prospectus Evaluations," which has been accepted for publication in a future issue of the Journal of Management. Authored by professors Lyda Bigelow of the University of Utah's Eccles School of Business and Judi McLean Parks of Washington University's Olin Business School and Eccles School doctoral candidate Leif Lundmark, the research shows that the difficulties women face attracting investors for initial public offerings could cause a bigger problem—a gender-based capital gap for startups.
To conduct their research, the trio had 222 second-year MBA students, 45 of them women, assess a fictitious cosmetic surgery company using the financial and industry information of a real enterprise that successfully entered the stock market. The real company's executives were swapped with names and photos of women. The researchers concluded that there's an apparent reluctance to invest in IPOs headed by females even though nearly half of all privately held businesses are either owned or led by women.
Before it's here, it's on the Bloomberg Terminal.
LEARN MORE