[Your Company Name Here]: The Latest in Free Stuff
By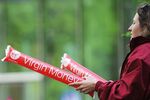 The company that invented the bumper sticker 75 years ago has made a few improvements to the product since then. The stickers actually come off the car now. Gill Studios also makes temporary tattoos that don't require water, so you can advertise your political preferences on your cell phone. And it has developed a double-sided yard sign with a wire stand—patent pending—that it expects to be a big seller this election year. A YouTube video demonstrates how to set it up in less than a minute.
Those are just a few of the thousands of [your company name here] items on display at the Advertising Specialty Institute show that's running in New York through May 10. Some $18 billion worth of promotional products were sold to companies, campaigns, event organizers, and many others last year. Forty-one percent of people surveyed by the Institute said their opinion of the advertiser was more favorable after receiving something—didn't matter what—for free. "Everybody loves free stuff, and in a bad economy everybody holds on to free stuff longer," says Dave Vagnoni, a spokesman for the Institute.
At BamBams, cardboard hand-clappers for sports events are popular this year. The company also sells inflatable tubes that make a really loud sound when banged together. No vuvuzelas, though: They take up too much space in the containers BamBams ships from China.
Raining Rose has a new caffeine lip balm (SPF 15) that sales rep Megan Valenta says "makes you feel a little tingle at first." After that you might want to get a cup of coffee. The lip balm is sold in a black tube and has caught on with Red Bull, Captain Morgan Rum, colleges, and the organizers of some 5K runs, she says.
MB Works has designed a porcelain travel mug for Lamborghini, a stainless steel water bottle in a leatherette bag for Lexus, and a BPA-free plastic water bottle with a neoprene wrap for Google. Make of that what you will.
USAopoly customizes board games for companies. It made a KFC Trivial Pursuit where every question was about the fast-food chain. That was just for corporate training. It's also created Monopoly games for Hershey, Target, and Bank of America. So many possibilities for that one: Forfeit your house, lose $100,000. Short sale, cash only. But, no, BofA wanted to just swap images of antique toy mechanical banks from its collection for the game board properties.
Here's some other free stuff you might get this year: a credit-card-shaped bottle of sanitizer spray, a perfume-scented temporary tattoo, a buzz brush to clean your computer and your keyboard, a bag made from recycled billboards, a card with an LED candlelight that you can blow out, and a spatula with a bottle opener on the handle. If you're really lucky, you might get customized headphones from the company that came up with the Fold and Play recycled speakers. Or a scooter with an attached cooler that can travel 20 miles per hour. Molson Coors Brewing bought a couple hundred of them.
"Everything can be branded," says Vagnoni. "I've never found an item that you can't logo."