Utilities Try to Tame the Backlash Against Smart Meters
As consumers balk, utilities are tacking on surcharges for holdouts
by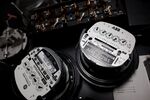 For the past decade, the power industry has pitched the benefits of so-called smart meters, promising lower bills and more control over energy use. Lately, though, some consumers have started pushing back, saying the gadgets compromise privacy, raise costs rather than cut them, and threaten health with electromagnetic fields from the radios the meters use to transmit data. The backlash has slowed improvements to the nation's power grid as some utilities hold off on rollout plans while regulators weigh the potential benefits against the cost of the programs, expected to reach nearly $29 billion nationwide by 2015.
To keep installations on track, regulators in California, Maine, Nevada, Oregon, and Vermont are allowing utilities to impose a surcharge on consumers who want to keep their conventional meters, and four other states are considering such fees, according to the Edison Electric Institute, an industry lobbying group. Utilities and regulators say the charges are needed to pay for dispatching workers to homes each month to record usage. "In an opt-out situation, you may be reading one meter and then the next one is five miles away," says Helen Burt, chief customer officer of Pacific Gas & Electric, California's biggest utility. "It's much more costly."
Though only a small percentage of users have balked at smart meters, the surcharges have spurred intense opposition among consumer groups. "Charging fees for opting out is pretty outrageous," says Charles Acquard, executive director of the National Association of State Utility Consumer Advocates. The move risks provoking additional consumer backlash, says Glen Grabelsky, an analyst with Fitch Ratings. "It's almost a punitive approach," he says.
The new meters let utilities track consumption constantly, so they can raise rates during times of peak demand such as summer heat waves. Such price jumps, regulators say, will help keep usage in check, reducing the risk of blackouts from network overload and easing the need for expensive new power plants. The smart meters can also be controlled from a central location, saving utilities money by eliminating the need for meter readers and letting them shut off service to deadbeat customers from afar.
In California, most customers who want to keep a traditional meter will have to pay an initial fee of $75 plus $10 monthly. More than 90 percent of PG&E's 5.4 million customers now have a smart meter as part of a $2.2 billion program to deploy the devices, the utility says. About 26,800 customers have opted to keep their mechanical meters.
Since PG&E introduced smart meters in 2006, some users have complained that the technology leads to overcharging and is a health risk. Catharine Gunderson, a retired teacher, says the fee she is required to pay to keep her old equipment "is extortion." Worried about the radio waves from a newer device, she put a cage around her traditional meter in her home in Santa Cruz to prevent PG&E from taking it.
After some 600 California consumers complained about inaccuracies in bills, state regulators in 2010 commissioned a study that found the new meters are reliable. Last year the California Council on Science and Technology, a state-created advisory board, said there's no scientific evidence that smart meters are harmful. The devices emit far less radio-frequency energy than microwaves or cell phones, the group said.
Power companies have invested more than $15 billion in smart grid projects and are projected to spend an additional $13 billion through 2015, according to Bloomberg New Energy Finance. Some 27 million smart meters have been installed, and within three years that number will likely reach 65 million, or about half of U.S. homes, according to the Institute for Electric Efficiency, a research group financed by utilities.
In November, MidAmerican Energy told Iowa regulators it was holding off on deploying smart meters while assessing how other power companies address complaints. Citing concerns about higher customer bills and rapidly changing technology, Alliant Energy has delayed installation of smart meters in Iowa and Minnesota. Connecticut regulators last fall put off a ruling on a proposal by Connecticut Light & Power to install 1.2 million of the devices pending development of a statewide smart-meter policy. With the growing uncertainty surrounding smart-meter programs, more power producers are likely to delay their own rollouts, says Theodore Hesser, an analyst for Bloomberg New Energy Finance. "The utilities sitting on the sidelines are trying to determine, 'Are the benefits real?' "
Before it's here, it's on the Bloomberg Terminal.
LEARN MORE