Syria's Economy Starts to Crumble
Depositors flee the banks; the price of Nescafé climbs 61 percent
By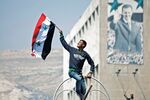 One clear sign of Syria's distress is the condition of its banks. Deposits fell by an average of 35 percent in 2011 at Bank of Syria & Overseas, Bank Audi Syria, and Banque Bemo Saudi Fransi, according to April filings to the Damascus Securities Exchange. Lending plunged 22 percent last year. Syrians are taking their savings abroad, including to nearby Iraq—not a recent pillar of stability—where Syrian and Iraqi money-changers provide dollars for Syrian pounds, and to Lebanon for the same purpose.
The 14-month-long uprising that has claimed more than 9,000 lives is taking an increasing toll on the business class, mostly drawn from the majority Sunni Muslim community. Its support for President Bashar al-Assad, who is a member of the minority Alawite sect, could buckle as the economy continues to suffer, a result many outsiders hope will happen.
Syria's pound has weakened to about 62 per U.S. dollar, from 47 before the violence started in March 2011, according to data on the Syrian central bank's website. Unofficial money-changers in Lebanon sell the pound at about 67 per dollar. The economy may contract 5.9 percent in 2012 after shrinking 3.4 percent in 2011. Prices of imported products have soared. In Damascus, a jar of Nescafé instant coffee that sold for 325 pounds ($6.90) a year ago is now 525 pounds. A packet of sliced French cheese that was 85 pounds now costs 150.
One of the country's main exports has slumped since the European Union's decision to stop importing Syrian crude oil last year. That's cost the country $3 billion in revenue, Oil Minister Sufian Alao told the official Syrian Arab News Agency on April 30. State media regularly report "terrorist" attacks on the country's oil pipelines, most recently in Deir Ezzor province. The Assad government has subsidized fuel, sugar, and other essentials to keep prices down. Yet the regime lacks the financial staying power to maintain the subsidies indefinitely. "The economy is in a downward spiral and is trapped," says Jarmo Kotilaine, chief economist at Saudi Arabia's National Commercial Bank. "This spiral can continue, and if it does, everyone including the government and individuals will revert to a more simple way of doing business," meaning banking will return to its most basic functions. "It's not the ideal scenario."
Abdul-Hafiz Attasi, who lives in Damascus and owns a food distribution company, says his business is barely breaking even: "It's really hard to get any form of financing." Attasi explains that credit-card transactions in Syria are conducted in dollars. "Now the Syrian currency has lost 30 percent of its value so people are finding it difficult to repay."
Banks in neighboring Lebanon, where Syria has long wielded political influence, have halted all transactions with Syrian lenders to conform with United Nations sanctions, according to Gaith Mansour, head of capital markets for Beirut-based bank Credit Libanais. "Lebanon can't afford politically to override any UN Security Council decision despite the strength of the ties between Lebanon and the Syrian regime," he says. EU governments stiffened sanctions on April 23, banning the export of luxury goods to Syria and adding more products to a list of banned technologies that could be imported by the regime and used to suppress dissent. The UN is sending 300 unarmed monitors to oversee the April 12 cease-fire agreement that has so far failed to stop daily attacks by government forces on urban areas.
Tightening credit and a slowing economy are having a "big psychological impact on those who have been sitting on the fence like the business community, those that have been supporting the regime," says Salman Shaikh, director of the Brookings Doha Center. "Is the banking sector facing the threat of collapse? I suspect it probably is," he says. "Assad is piling all his money into this war, draining resources from other sectors like education and finance. This can't go on forever."
BOTTOM LINE -
The bottom line: A European embargo on Syrian oil has cost the country $3 billion, adding to the economic woes of the Assad regime.
Before it's here, it's on the Bloomberg Terminal.
LEARN MORE