business
HP Is Still Full of Leaks
By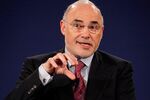 Time heals all wounds. Except at Hewlett-Packard, where old wounds fester with remarkable persistence and where there seems to be a deep bench of executives unfamiliar with the concept of a bygone.
This week, Fortune magazine disgorged a feature story documenting the rancor present during Léo Apotheker's 11-month run as chief executive officer of HP. Why dredge up a play-by-play of Apotheker's ouster now? I'm not sure. Apotheker never seemed that interesting while he was on the job, and was forgotten with pleasure and ease after HP's board fired him.
Of the 7,000 words or so in the story, these were the ones I found most interesting. They relate to HP's debate over whether it should sell off its PC business, which has been run for years by Todd Bradley. "In July the board had set up a five-member committee to study the options for the PC division. … They didn't even consult Bradley, the head of the division in question. The directors were afraid he would leak the news, so they excluded him." HP, it's said, held just two meetings about the fate of the PC division. (New CEO Meg Whitman has decided to hold on to the PC unit for now.)
If this is true, it's pretty horrifying.
HP sells about $40 billion worth of PCs every year, making Bradley the head of one of the biggest businesses in the world. Following Bradley's arrival at HP, the PC unit transformed from a burden into a consistent performer that churned out big profits. Bradley would seem like an excellent person for the board to consult while weighing the value of the PC business.
Beyond that, he gets painted throughout the story as a patsy of the press, telling reporters all of the company's inside dirt. In my experience, however, Bradley dislikes dealing with reporters and exhibits sometimes reticent, sometimes hostile characteristics. (Maybe it's just me.)
The constant source of leaks over the years has been HP's board, not its division chiefs, as we found out in detail during the pretexting scandal of 2006. The Fortune piece illustrates that this tradition is alive and well.
Before it's here, it's on the Bloomberg Terminal.
LEARN MORE