How the Gay Marriage Battle Hurts Business
By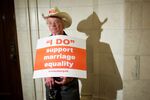 On Tuesday night, when President Obama was making up his mind to publicly support gay marriage, the Colorado legislature was working on a gay rights issue of its own—specifically, a bill allowing civil unions.
The bill was notable for two reasons: First, Colorado had banned gay marriage and voted down a domestic partnership bill just six years ago; now it was poised to deliver gays stronger legal rights. Second, the measure drew support from both parties and had already cleared several committees in the Republican-led House. A sufficient number of Democrats and Republicans supported the bill to ensure it would pass, and Governor John Hickenlooper had announced he would sign it.
Yet early Wednesday morning, the last day of the legislative session, Republican House Speaker Frank McNulty made sure that couldn't happen by employing the "nuclear option"—pulling the civil unions bill and dozens more that were pending. (The Colorado House action was unrelated to the president, occurring before Obama's comments on gay marriage.) For obvious reasons, most media attention on the fallout has focused on how it will affect civil unions. Yet the collateral damage from McNulty's tactic—the 30-odd bills that were also yanked—included many important measures that affect business and were suddenly thrown into chaos.
They include oil and gas severance taxes; several large water conservation construction fund projects; a state business development and retention program; a task force to study the cost of regulatory compliance for businesses; and new rules to ensure mandatory participation in the federal E-verify system. All this was halted in the service of stopping a civil unions bill that most Coloradans support.
One of the primary complaints that business interests make about government is that it often creates costly and unnecessary "uncertainty." It's hard to imagine a clearer example than what's happening in Colorado. As for cost, that's not limited to businesses. Today, Hickenlooper called for a special legislative session to finish work on the civil unions bill and many of the others blocked by its foes. That session begins on May 14, and according to the Denver Post, it will cost taxpayers $23,500 a day.
Before it's here, it's on the Bloomberg Terminal.
LEARN MORE